Iran-backed militias operating in Iraq have been using their influence to extort protection money from business owners, particularly in areas liberated from the "Islamic State of Iraq and Syria" (ISIS), Iraqi citizens and officials said.
The repeated threats from these militias, which operate like gangs, have driven a number of Iraqis to abandon their livelihoods and leave their cities.
Asaib Ahl al-Haq in particular has been "suffocating Salaheddine" with its greed, said a province resident who asked to remain anonymous out of fear of reprisal.
In Salaheddine, Iran-backed militias have been "interfering in every aspect of people's lives and forcing them to pay money under the pretext that they are protecting their interests", he told Diyaruna.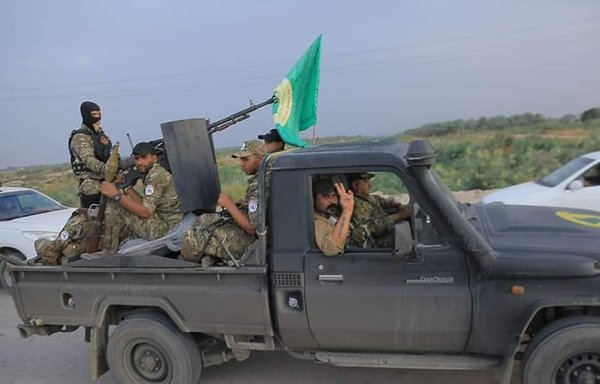 "Everyone, including farmers, restaurant owners, shop owners, artisans and even street vendors have to give a portion of their income to the militias," he said, noting that refusing to pay could cost them their lives.
A Mosul resident who also asked to remain anonymous told Diyaruna the blackmail practiced by the militias has given him and other shop owners "no other choice but to close down their shops and leave to escape the pressure".
"Militia members are roaming the market to survey how many shops there are and how much each shop owner makes monthly so as to calculate their extortion fees, which could reach hundreds of dollars," he said.
"They have made our lives unbearable and we and our families no longer feel safe," he said. "ISIS was the reason behind our displacement, and now the pressure we feel from the militias has forced us to once again flee."
'Flagrantly blackmailing residents'
In Ninawa province, armed Iraqi militias that owe their loyalty to Iran, which funds them, are "flagrantly blackmailing and forcing residents to pay protection money", said Iraqi MP from Ninawa Hassan al-Alaw al-Jubouri.
"Most people pay for fear of the militiamen's tyranny," he told Diyaruna, noting that people are angry that, after ISIS's defeat, another force has taken its place.
Iraqi forces operating in the province have reported these attempts at extortion to the federal government, al-Jubouri said, noting that he has raised this issue several times in parliament himself.
The only real solution is to "remove the militias and armed factions from liberated cities and towns", he said, and to make it clear that Iraqi police are responsible for implementing the law "and no one is above the law".
"This is the only way we are willing to settle this issue," he said.
Likewise, Iraq's Qarar Coalition head Athil al-Nujaifi called for these "unpopular armed factions" to be removed from cities, stressing that the only official presence should be that of Iraqi security forces.
"No parallel entity has the right to exist and carry out illegal activity that victimizes civilians," he told Diyaruna, pointing to Asaib Ahl al-Haq's role in the recent Mosul ferry disaster.
The sinking of a ferry crossing the Tigris in Mosul -- an incident that killed close to 100 people -- has drawn attention to the corruption that has been festering in areas of Iraq where Iran-backed militias wield influence.
Militias focus on liberated areas
Iraqi militias linked with Iran's Islamic Revolutionary Guard Corps (IRGC) --Asaib Ahl al-Haq and Kataib Hizbullah in particular -- rely on extortion to fund their operations, strategy expert Alaa al-Nashou told Diyaruna.
These militias operate throughout Iraq, he said, but "focus on liberated areas with fragile security, to deceive people that their presence is essential and indispensable to protecting their lives and securing their properties".
"This allows them to eventually blackmail the local population for protection money or to steal resources," he said, noting that "some reports have stated that 20% of the country's economy is in the hands of the militias".
These militias have been collecting protection money as their funding dwindles as result of US sanctions imposed on Iran and the tracking of illegal bank transactions related to their funding sources, al-Nashou said.
"These militias are now threatening and extracting money from wholesale and retail businesses as well as the private sector and even small and medium sized business in areas where security is weak," he said.
Revenues from public parking garages and those serving hospitals, commercial centres and cargo trucks also are being targeted by these militias, he added.
Municipal and public service operators also have been pressured to grant contracts and tenders to those that pay bribes and fees to the militias, he said.