Iran has been making a targeted effort to siphon hard currency from Iraq in a bid to circumvent US sanctions, thereby stymieing the Central Bank of Iraq's measures to boost the dinar, Iraqi experts told Diyaruna.
Central Bank of Iraq (CBI) daily hard currency auction data shows the injection of between $140 million and $163 million a day into the domestic market since early 2018, according to the bank's official website.
This is part of the bank's stated plan to maintain the strength of the Iraqi dinar and prevent a decline in its value, with 34 companies and banks granted prior licenses handling the purchase of hard currency.
Yet the price of the Iraqi dinar has not improved in recent months.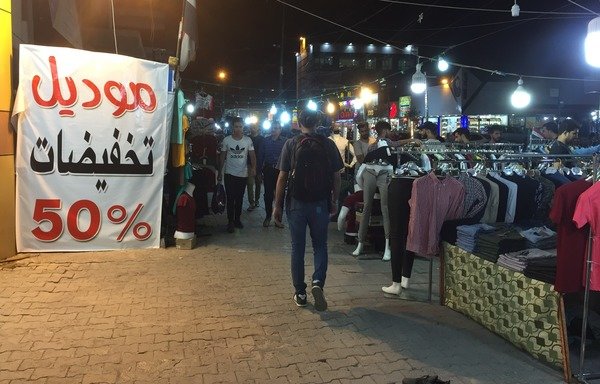 "Iranians are directly responsible for the confusion in the market, instability of the Iraqi dinar and the US dollar hemorrhage," said the executive director of a Baghdad CBI-licensed money transfer and currency exchange company, who asked to remain anonymous.
"They are using many ways to pull dollars out of the market on a daily basis," he told Diyaruna.
Instead of remaining in circulation in the Iraqi market, "hard currency is disappearing and being transferred to Iran" via several means, he said.
In some cases, gangs buy dollars from companies in large amounts, he said.
In others, Iranian iron, cement, auto parts, electrical appliance and food companies have been "offering discounts of 20% to 25% if payment is made in US dollars", he said.
To benefit from these discounts, Iraqis exchange dinars for dollars to make their purchases, he said.
"These companies in turn use circuitous means to circumvent the CBI and transfer large amounts of hard currency to Tehran on a daily basis," he added.
Corruption at border crossings
According to the executive director, some security officials and inspectors at border crossings are "involved in these criminal activities".
These transactions have harmed Iraqi citizens, he said, who would be better off overall if the value of the Iraqi dinar improved.
Iraqi MP Majida al-Tamimi, who serves on the parliamentary finance committee, in 2017 warned that Iraq was being drained of hard currency "through fictitious import transactions".
More recently, Iraqi MP for Diyala Humam al-Tamimi on January 15th pointed to suspected cases of corruption and smuggling at one of Diyala's two border crossings with Iran.
He called on the Iraqi government to work on fighting border corruption.
"The government needs to launch a large-scale campaign to monitor border crossings," Iraqi MP Alia Nassif told Diyaruna, adding that it should focus on crossings where there have been repeated complaints about smuggling activity.
"There is no doubt that some of the workers at those crossings are involved, and we must fight corrupt [officials] as we fight terrorists," she said.
At a February 12th press conference in Baghdad, Border Crossings Authority head Kazim al-Aqabi noted the issue of corruption at the country's border crossings.
"It is undeniable that there are cases of corruption at the Border Crossing Authority, just like in any other government agency," he said.
This has landed Iraq at the bottom of Transparency International's Corruption Perception Index, he said, noting that the authority is moving forward with measures to combat corruption.
Smuggling harms Iraq's economy
Goods and commodities of all kinds are continuously smuggled into Iraq through the Iranian border, "and hard currency is transferring from Iraq to Iran", said Adel Ali of the Baghdad Chamber of Commerce.
"There are militias that sponsor these activities, including both smuggling into Iraq and sapping the market's strength by withdrawing hard currency from it," he told Diyaruna.
Iranians are draining Iraq of its wealth, impeding the revival of Iraqi industries and preventing it from achieving self-sufficiency by having to rely on imports from Iran, said Athil al-Nujaifi, who heads Iraq's Qarar Coalition.
Kurdish Democratic Party member Hama Amin said smuggling has exhausted the economies of cities in the Kurdish region, as well as other provinces of Iraq.
"The Iranians are opening the border on their side to anyone who wants to smuggle anything to Iraq, because they know [the smugglers] will bring back dollars with them," he told Diyaruna.
The CBI must come up with new solutions, other than auctioning hard currency, in order to prevent the value of the Iraqi dinar from declining, he said.
The CBI has halted all bank transactions in dollars by banks and foreign remittance companies because of the sanctions imposed on Iran.
"Pursuant to the decision of the administration of the Central Bank of Iraq, the conduct of transactions with branches of Iranian banks in dollars is hereby prohibited," a bank statement said.
Last November, the CBI also announced it was suspending the sale of US dollars through national banks to Iraqis planning to travel to Iran.