The sinking of a ferry crossing the Tigris in Mosul -- an incident that killed close to 100 people -- has drawn attention to the corruption that has been festering in areas of Iraq where Iran-backed militias wield influence, officials said.
Iran-backed militias such as Asaib Ahl al-Haq, Kataib al-Imam Ali, Harakat al-Nujaba, Sayyid al-Shuhada Battalions, Saraya al-Khorasani and the Badr Organisation have established "commercial offices" in these areas, they said.
There are at least eight of these offices in Mosul, typically situated within the headquarters buildings of the militias they represent, through which the militias seek to control and influence local commercial activities, they added.
According to Iraqi MP Falah Hassan Zeidan, who represents Ninawa in parliament, these so-called commercial offices are run by gangs "whose sole purpose is to obtain money in any way possible".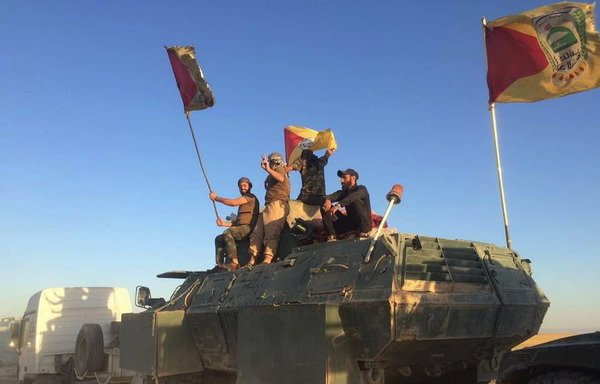 Militia members have been known to engage in all sorts of illegal activities, he told Diyaruna, and have been accused of plundering public funds and engaging in corruption as they try to profit from reconstruction projects.
"Through these offices, they blackmail investors, contractors and [wealthy] individuals by extracting taxes and skimming revenues," he said.
"Blackmail has infected services such as gas stations and commercial centres, and has even affected small business owners such as industrial shops, restaurants and cafes," he added. "Everyone has to pay the price."
This has forced many civilians to leave Mosul to escape the pressure from armed groups, he said, noting that "26 families from Mosul have recently fled to the Kurdish region due to the pressure".
"Corruption has seeped into every facet of our life," Zeidan said. "We hold these groups accountable for this, and charge them with stealing the resources of our province to fund their operations and strengthen their influence."
Militia linked to ferry disaster
The Tigris ferry disaster "was a result of the corruption at the provincial level, for which the pro-Iran militias are responsible", Ninawa tribal spokesman Sheikh Muzahim al-Huweit told Diyaruna.
"The commercial offices of these militias would exert pressure to award contracts and tenders to implement and manage service projects to investment companies that do not meet the minimum required standards, in exchange for large sums of money," he told Diyaruna.
Sometimes these projects would "only exist on paper rather than on the ground", he said.
"The tourist island where the ferry incident occurred is owned by an investor," he explained. "This investor would pay Asaib Ahl al-Haq 30% of the revenues of the tourist island in protection money to be able to run it."
An individual close to Asaib Ahl al-Haq commander Qais al-Khazaali, under the name of Haider al-Saidi, was in charge of the militia's commercial offices in Mosul, and oversaw the financial transactions with the investor, he said.
On March 30th, authorities said the owners of the tourist island and ferry had been arrested in Erbil, along with three engineers who "signed off on the ferry service and deemed it to be compliant with required standards and regulations".
In the aftermath of the ferry incident, the Iraqi parliament voted to sack Ninawa governor Nawfal al-Akoub and his two deputies, on the recommendation of Prime Minister Adel Abdul Mahdi.
Subsequent actions -- including arrests and travel bans -- were taken against other local government officials.
Investigations are ongoing
The Iraqi government created an emergency task force after the ferry incident, which includes the University of Mosul president, Ninawa Operations Commander and the Chief of Police, to investigate the incident and oversee the province.
"Investigations into the incident are still ongoing," al-Huweit said, calling on the government to bring all those involved in the ferry incident to justice.
Asaib Ahl al-Haq will be under scrutiny for its role in the disaster, he added.
Al-Huweit called for a crisis unit to be formed to "confront the influence of the militias and their commercial offices and to review all projects in terms of compliance and corruption".
"We hope to see an end to all these violations and the influence of the armed factions that have wreaked havoc in our province," he said.
The Iraqi government is obliged to take in hand the roughly 40 commercial offices of the Iran-backed armed militias across the liberated provinces, strategy expert Alaa al-Nashou told Diyaruna.
These offices "now control 30% of the economies of these provinces through taxation, blackmail and takeovers of properties and public projects, as well as control of trade routes and theft of reconstruction budgets and smuggling and control of oil".
"We have to take effective steps to end this hemorrhaging of national resources in service of the Iranian influence and their expansionist agenda," he said.