Iran-backed Iraqi militias have come under fire in their home country for rushing to help Iran in the aftermath of the recent devastating flooding before tending to the needs of their compatriots, Iraqi experts said.
When Iraqi militias quickly mobilized to assist flood relief efforts in Iran, angry Iraqi social media users shared photos of Iraqi convoys passing through similarly afflicted areas of Iraq on their way to the border, without stopping to help.
This indicates these militias were more focused on appeasing the Iranian regime, which has trained and armed them, than on providing humanitarian assistance, they said.
Iraqi militias that rushed to Iran after the flooding include Iran-backed Asaib Ahl al-Haq, Harakat al-Nujaba, the Badr Organisation, Sayyed al-Shuhada Brigade, al-Tufoof Brigade, Harakat Hizbullah and Abu al-Fadl al-Abbas Brigade.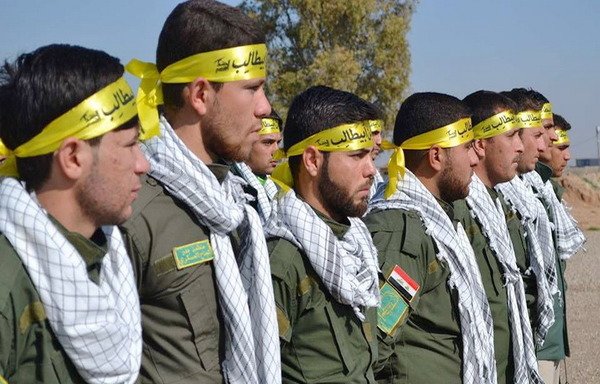 These militias "sent dozens of convoys with around 400 tonnes of food supplies, medicine, tents and blankets, and dispatched ambulances to Iranian areas damaged by the floods", said political affairs researcher Abdul Qader al-Nayel.
"Ironically, before crossing into Iran, these convoys traversed Iraqi border towns that were also devastated by the flooding," he told Diyaruna.
Residents of these border towns also "were without shelter and suffering from shortage of services and lack of support", he said.
After the flooding, Iran-backed Iraqi militias immediately approached local businesses owners in southern Iraq and "forced them to provide food supplies and provisions to be transported to Iran", al-Nayel said.
"They are willing to do anything to please Iran, even at the expense of the interests of Iraq and its people who are suffering," he added.
Corruption is rife
It has been noted in Iraq that while these militias did not hesitate to respond to the flooding disaster in Iran, they did not behave so honourably when around 120 people lost their lives in the Mosul ferry disaster of March 21st.
While Iran-backed Asaib Ahl al-Haq has been accused of being involved in the ferry sinking, local officials said members of the fact-finding committee had been pressured to derail the investigation or absolve certain figures.
Corruption that has festered in areas where these militias have established a presence contributed to the tragedy, al-Nayel said, as material gain was placed before public safety.
"To cover up for this crime, they are now trying to obstruct the investigative team and prevent them from entering the tourist island," he said.
The ferry incident exposed the nature and level of financial corruption of the armed factions that have ties to the Iranian regime, said Ghazi Faisal Hussain, an advisor at the Iraqi Centre for Strategic Studies.
These militias do not operate within the framework of the Iraqi military and "are not patriotic" as they are swayed by their ideological and political ties to Iran, he told Diyaruna, noting that they operate as though they are above the law.
They act with impunity, he said, even if they infringe upon Iraq's sovereignty by responding to orders issued by Iran's Islamic Revolutionary Guard Corps (IRGC), which oversees their training and armament.
Iran demands loyalty
"The emergence of pro-Iran [Iraqi] militias has been widely resented by the Iranian population, especially in the western part of the country, with many demanding their removal," strategy expert Alaa al-Nashou told Diyaruna.
Many Iranians resent the regime's support of foreign armed factions, which deplete the country's resources and exacerbate its financial crisis, he said.
"Iran gives the Lebanese militia Hizbullah $700 million a year in the form of salaries to its members, in addition to support provided to Iraqi militias," he said.
The leaders of these groups "are puppets controlled by the IRGC that are deployed according to the whims of their Iranian puppet masters", he said.
The Iranian regime is "constantly requesting that these militias demonstrate their allegiance and loyalty and rapid response to Iranian directives", he said, particularly those relating to international sanctions and domestic pressure.