The city of Mosul is being cleaned up under a campaign launched April 6th to remove war debris and trash from streets and public venues.
The campaign, operating under the slogan "For a cleaner, prettier Mosul", was launched by the crisis cell Prime Minister Adel Abdul Mehdi created to run Ninawa province after the sacking of province governor Nufal Hammadi.
Iraq's parliament voted to remove Hammadi from his post after 100 people died in a ferry disaster that sparked a wave of grief and anger.
The campaign has received major support from "Ninawa province municipalities, civil society organisations and security forces, as well as local residents", Mosul municipality's media director Alaa Mohammed told Diyaruna.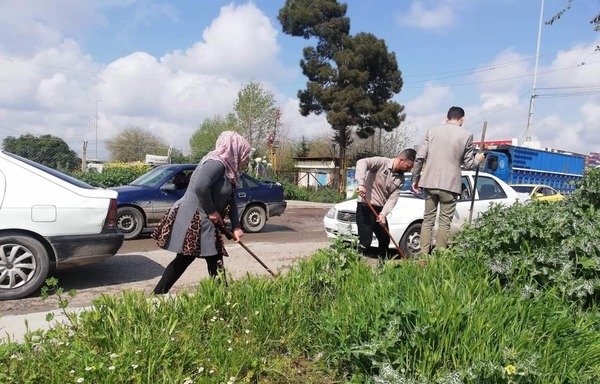 The campaign, implemented by the municipality under the supervision of the crisis cell, is one the largest clean-up operations following Mosul's liberation from the "Islamic State of Iraq and Syria" (ISIS) group's control, he said.
The Ninawa crisis cell is comprised of "the Ninawa police and Operations commanders and the President of the University of Mosul", he added.
The campaign "covered all nine residential sectors in the city's eastern and western parts, with 3,000 municipal workers and volunteers and 500 vehicles and service trucks participating", said Mohammed.
Large quantities of waste and debris of buildings that were destroyed during the war have been removed at a daily rate of 3,592 cubic metres of rubble and 3,500 tons of waste, he said, with a focus on the alleys of Mosul's Old City.
"The campaign involved the opening of a large number of streets that were closed with concrete barriers during the fighting," said Mohammed, with more than 150 streets re-opened so far.
Additionally, campaign workers have paved damaged streets with asphalt and have filled in craters caused by bombings and terror attacks, he said.
"We currently have one plant producing asphalt in eastern Mosul, which has equipped us since its return to service in May 2017 to date with about 100,000 tons of asphalt," he said.
The material has been used to maintain and treat main streets and roads, he added.
Local youth turn out for campaign
Members of youth volunteer teams, such as the "Badaina" (We Have Started), "Ana Azara" (I Plant) and "Khaluha Ajmal" (Beautify the City) teams, "have participated not only in cleaning operations, but also in the efforts to plant trees on traffic islands and public squares", said Mohammed.
Local residents have also been highly co-operative with the municipality in carrying out service events and are receptive to the awareness-raising activities that accompany the campaign, he said.
These activities involved urging residents to "avoid the indiscriminate dumping of waste, use garbage bags, and to clean outside their homes", he added.
The municipality has faced many challenges in the provision of services due to the lack of specialised machines, funds and fuel, said Mohammed.
"It could not keep up with the amount of rubble accumulated in the city and the estimated 1,750 tons of daily waste generated by about 1.75 million people," he said.
But the recent campaign has helped the municipality overcome these difficulties and has "pushed our efforts forward", he said.