Economy
|
2018-07-20
Mosul local government hard at work to restore services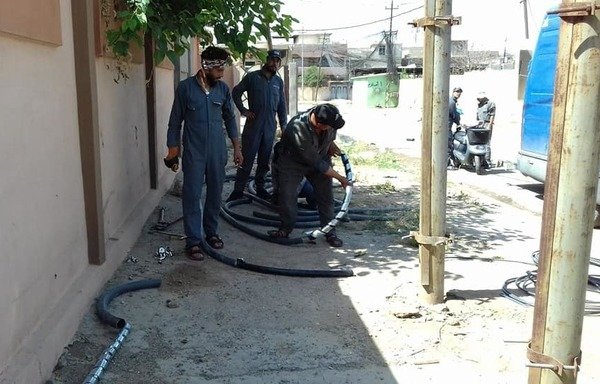 The reconstruction of Mosul in the aftermath of its liberation from the "Islamic State of Iraq and Syria" (ISIS) last year is picking up pace, local officials tell Diyaruna.
"When our city was liberated, most water, energy and municipal services as well as health and education services were either destroyed or not operational," said Mosul governor Zuhair al-Araji.
Immediately after Mosul's liberation, the local government developed a plan that identified the most urgent services to restore, he told Diyaruna.
"Our work initially focused on how to provide drinking water and electricity to the local population, remove remnants of war and open main roads," he said.
"We managed to bring back full services in record time for all the eastern part of Mosul despite the grave damage inflicted on several water and electricity plants whose contents ISIS had looted and burned," said al-Araji.
As for western Mosul, services have resumed in just 60% of that part of the city as the fighting there was fiercer and entire neighbourhoods were affected, he added.
"Our biggest challenge lies in the Old City where everything was destroyed, including 12,000 residential and commercial units," he said.
Public buildings were reduced to rubble and energy and water systems were completely destroyed, al-Araji said.
"We are currently working on cleaning some of the old neighbourhoods and opening public roads, which has helped with the return of 4,500 families for whom we are trying to restore public services," he said.
"Rebuilding this area requires intervention from donor countries and [international] organisations as the damage exceeds our capabilities," al-Araji said.
'We are doing our job'
Security in Mosul is "very stable" thanks to the significant intelligence support security forces receive from locals, he said.
"Pre-emptive military operations targeting ISIS remnants helped undermine the threat they pose," he added.
Municipal workers are clocking in 18 hours a day, focusing on paving the roads and removing debris and waste.
The Mosul municipality currently employs 1,000 cleaning workers "but we need nine times that number", the municipality's deputy director for services Ahmed Saleh al-Jubury told Diyaruna.
"We now only have 300 bulldozers and trucks as terrorists have looted and destroyed hundreds of those vehicles," he said.
"However, in spite of these shortages, we are doing our job."
"Through campaigns carried out over the past year in co-operation with local volunteers, we have managed to remove three million tonnes of debris and 700,000 tonnes of war remnants and waste, as well as pave 900,000 square metres of roads," said al-Jubury.
"We are working like a beehive till the late hours, overcoming any challenge to serve our people," he said.
All public services have been restored to an acceptable level for all residential neighbourhoods in eastern and western Mosul, he said, "with the exception of old Mosul as this area is still suffering in spite of ongoing cleaning and rehabilitation efforts".
Health and education
In the education sector, around 50 Mosul schools have been rehabilitated over the past year and new schools have been opened.
Local authorities also are trying to rehabilitate 16 general and specialised hospitals whose level of damage ranges between 40% and 70%, said Ninawa Health Department director Dr. Falah Hassan.
"Medical services are improving as destroyed health centres -- about seven of them -- are reopening with the support of international organisations," he told Diyaruna.
"But most hospitals, such as the General Hospital, Ibn Sina Hospital and al-Batool Hospital, are not yet fully rehabilitated nor operating at full capacity," he said.
"Before the war, our institutions held 5,000 beds, but now we only have 700 beds," Hassan said.
The municipality has drawn up plans to rely on mobile field hospitals as a temporary measure, he said, "with one such unit having opened with a capacity of 100 beds currently providing services to western Mosul".
"We will soon open a second hospital with a capacity of 150 beds also in the western part of the city," he added.