Though the "Islamic State of Iraq and Syria" (ISIS) was ousted from Mosul in July, its Old City remains littered with debris.
To clear the streets and restore the city to its former state, a group of local volunteers has formed an initiative they are calling the "Danaber Revolution".
Danaber, Iraqi slang for "dump trucks", are designed to carry bulk items on construction sites. The volunteers are using them to clear the rubble because they can easily enter the city's narrow alleyways.
"Our initiative was initially a simple contribution to municipal efforts to clean the Old City and remove the rubble," said Bandar al-Akeidi, a civil activist who leads the volunteer group Muthabirun lel-Kheir.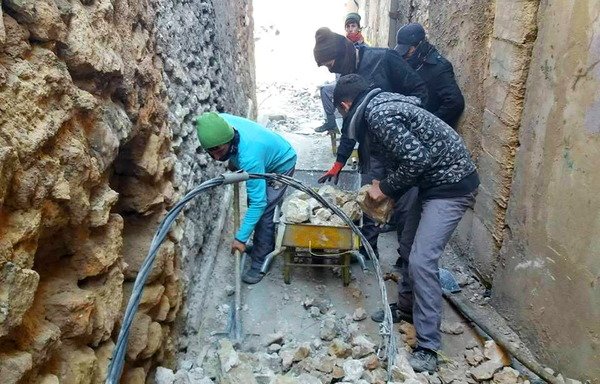 "We were encouraged to do more after we saw displaced families return to corridors we had cleaned," he told Diyaruna, adding that the families pitched in with the clean-up efforts.
"More and more people have been joining this effort, and we now have hundreds of local volunteers of all age groups who have joined the cleaning teams that are working in several neighbourhoods in the Old City," he said.
The vehicles, which have come to symbolise volunteerism, can only carry one cubic metre of rubble at a time, al-Akeidi said, "which is minimal compared with the level of destruction in the Old City".
But they are vital to the clean-up work because they can enter narrow places that large municipal trucks and bulldozers cannot access, he explained.
The volunteers have managed to clear four neighbourhoods so far: al-Moushahada, al-Sarchakhana, al-Khazraj and al-Farouq.
The amount of rubble that has been removed is equivalent to the capacity of 15,000 danaber vehicles, he added.
"Volunteers are relying on themselves and the support they are receiving from private donations to cover the expenses associated with this effort," he said.
"The aim is to help erase all signs of war and to bring normalcy quickly back to affected areas," he added, noting that the two biggest hurdles facing quick execution of the plan are explosives and bodies buried beneath the rubble.
Sharing the burden
Danaber Revolution volunteers "are sharing in the burden that rests on the shoulders of the local authority, which requires a group effort to make it a success", said Mosul municipality director Abdul Sattar al-Habbou.
"We are working together, and they are using danaber vehicles to remove the rubble from narrow alleyways to the roads and public spaces so that our large vehicles can later transport the debris outside the city," he told Diyaruna.
The war in Mosul has created "approximately 3.5 million cubic metres of rubble", al-Habboub said, noting that so far, 2.5 million cubic metres of waste has been removed from several areas -- the equivalent of 3.4 million tonnes.
The municipality also has removed 7,500 burned-out vehicles resulting from the military operations, and is launching a campaign to remove 3,000 damaged vehicles, mainly from western Mosul, he added.
There are plans to repave main and side roads, rehabilitate parks and public squares and remove approximately 25,000 pieces of concrete from roads.