Syrian Democratic Forces (SDF) were on Thursday (February 21st) negotiating to evacuate civilians from the last redoubt of the "Islamic State of Iraq and Syria" (ISIS) in Deir Ezzor province, the international coalition said.
Hundreds of people, including women and children, were trucked out of the last patch of ISIS territory on Wednesday, but the SDF said a large number of civilians remained inside, AFP reported.
The SDF has previously identified the remaining civilians as mostly wives and children of ISIS fighters.
Meanwhile the Arab-Kurd alliance, backed by international coalition warplanes, has trapped ISIS fighters in less than half a square kilometre in Baghouz al-Fawqani in eastern rural Deir Ezzor.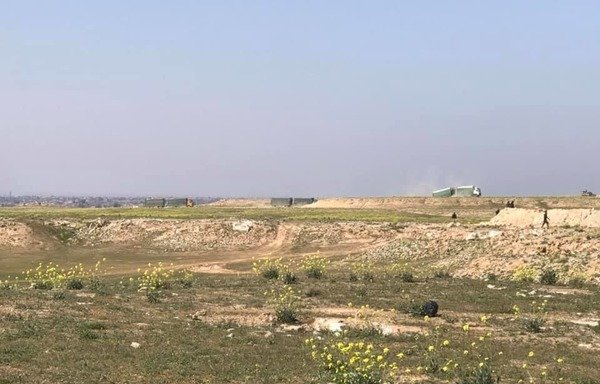 "Coalition forces, to include the US, continue to support the SDF as they negotiate having innocent civilians released," coalition spokesman Sean Ryan told AFP, adding that ISIS faces "inevitable defeat".
The Syrian Observatory for Human Rights on Wednesday reported there were negotiations "for the surrender of the last ISIS fighters".
It said there were "reports of a deal", but the details were unclear.
Trucks transport civilians
Deir Ezzor activist Ammar Saleh told Diyaruna that on Tuesday, 25 large commercial trucks left Baghouz al-Fawqani.
The trucks transported a large number of civilians -- mostly women, children and elderly people -- to areas controlled by the SDF, he said.
Many trucks still remain in the besieged area to transport the remaining civilians and ISIS elements who wish to surrender, Saleh said.
Relatives of the ISIS fighters are among the group who left, he said, and it appears that ISIS elements are insisting that they be evacuated ahead of other remaining civilians whom the group is using as human shields.
According to available information, he added, ISIS elements are staying out of sight by hiding in underground tunnels.
"Only civilians, especially women, can be seen inside the besieged area," he said.
'Victims of the conflict'
Save the Children on Thursday reported that more than 2,500 foreign children from 30 countries who have fled the last sliver of ISIS-held territory are living in desperate conditions in camps in north-eastern Syria.
"They need specialised help to recover from their experiences and return to normality, together with their families," the charity said. "This is impossible in overwhelmed displacement camps in a volatile war zone."
It said the children, including 38 unaccompanied minors, were from families "with perceived or actual associations" with ISIS and had been separated from the other evacuees.
The children are "victims of the conflict and must be treated as such", said Sonia Khush, Save the Children's Syria response director.