"Islamic State of Iraq and Syria" (ISIS) emirs and elements seek to preserve their own lives at all costs, using civilians in the areas they control as human shields or bargaining chips, Syrians who fled the group told Diyaruna.
Al-Raqa resident Sufian al-Hellani said ISIS had forced him to join its ranks before it withdrew from the city.
"When ISIS seized the al-Raqa region, its elements portrayed themselves as having come to protect civilians and liberate them from the rule of the [Syrian] regime," he told Diyaruna.
They exploited people's religious inclinations to indoctrinate them with "false fatwas and slogans", he said. "But as soon as the battle for al-Raqa began and the group started to suffer losses in its ranks, another side of it came to light."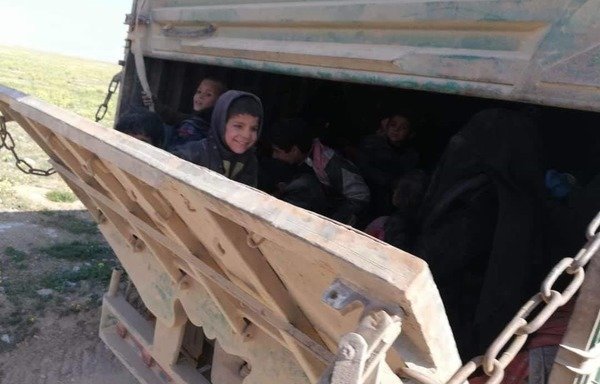 ISIS emirs and fighters stopped intermingling with civilians and hid underground, he said, "laying claim to any food they could get their hands on".
During the battle to liberate al-Raqa, ISIS elements pushed some of the men they had recruited by force to the front lines to die, he said.
In other cases, they bargained with the lives of civilians to negotiate a safe exit to other areas with the liberating forces, he added.
Even foreign escapees from ISIS territory have described being seduced by online depictions of life under ISIS that differed vastly from the reality they discovered upon arrival in the group's proto-state.
ISIS elements 'cannot be trusted'
ISIS emirs and elements "cannot in any way be trusted", said Mohsen Mohammed al-Jubouri, a civilian who recently fled the village of al-Baghouz in Deir Ezzor.
"Their safety, lives and money is their first and last concern," he told Diyaruna, adding that the group regards civilians as "merely a shield that protects them from airstrikes and from being attacked".
Al-Jubouri said ISIS elements had blocked him from fleeing to a safer area.
He was held with other civilians for about two weeks, he said, until the ISIS elements fled, which enabled his group to escape to SDF-controlled areas.
"It was a miracle that we made it safely, because of the large number of mines the group had planted to prevent or impede the advance of SDF units," al-Jubouri said.
SDF combat units protected him and others as they slipped out of the area, and helped them to avoid the danger of mines and sniper fire, he said.
Civilians 'merely bargaining chips'
According to civilians who fled the group's last stronghold in Deir Ezzor, ISIS elements viewed civilians "merely as bargaining chips and nothing more", local activist Jamil al-Abed told Diyaruna.
Civilian lives "mean nothing to them, other than a means to obtain some food or negotiate an exit to another area", he said.
Besieged by the SDF in their last pocket of territory east of the Euphrates River, the true nature of ISIS elements was exposed, al-Abed said.
ISIS fighters even abandoned their own wives and children, he said, adding that many Iraqi, Syrian and foreign women were left to their own devices when the SDF closed in, with small children who were too young to bear arms.
Some of these women had been unwilling ISIS brides, he added, noting that the group had forced their families to marry them to its fighters "or enticed them with money by taking advantage of their poor financial circumstances".
A large number of these women turned themselves in, he said, and are now in camps set up especially to shelter them.
The last batches of civilians to leave al-Baghouz included a large number of children, al-Abed said, which makes it clear that "religion was merely a façade" to ISIS fighters, who obviously were using children as human shields against attacking forces.
Repentant fighter reveals truth about ISIS
Over the past couple of years, since the liberation battles began against ISIS in Syria and Iraq, many of the group's fighters have been arrested or surrendered, with some expressing repentance for their actions.
In late 2017, a captured ISIS fighter in Iraq revealed in an exclusive interview with Diyaruna his disillusionment with the group.
Barakat Hussein Mahmoud, 24, was arrested in the desert area of Kilo 160, west of Ramadi, following an attack by Iraqi troops on an ISIS site that killed many of the group's elements and caused others to flee.
Mahmoud's fellow ISIS fighters left him behind after he suffered an injury to his leg in the attack.
After receiving treatment, he was transferred to a prison in Ramadi from where he told Diyaruna he had committed many crimes during his time with ISIS and brought destruction on many Iraqi families.
Mahmoud said the group killed Sunni Iraqis -- who ISIS claimed it was coming to protect -- more than it killed others.
"They used to tell us that it is worthier to kill Sunnis who disobey or oppose the group than to kill our enemies, since they are an internal risk threatening the caliphate," he said.
"[ISIS fighters] were liars and nothing more. It was all just slogans. They wanted power more than anything else, and they hid one thing while displaying piety and devoutness."
"But they cannot judge anyone, because they are merciless savages and I was one of them. I became that way, without mercy or any human feeling," he added.