The Iraqi public has grown increasingly resentful of Iran's blatant interference in the sovereign affairs of their country, Iraqi observers told Diyaruna.
The most prominent figure associated with Iranian meddling in Iraq continues to be Maj. Gen. Qassem Soleimani, commander of the Quds Force of Iran's Islamic Revolutionary Guard Corps (IRGC-QF).
Soleimani's regular public appearances in Iraqi cities are provocative to Iraqi civilians as they underline Tehran's strong influence in Iraq, observers said.
Pro-Iran media outlets and social media accounts regularly post photographs of Soleimani in Iraq, meeting with the leaders of Iran-backed militias who work for the interests of the IRGC.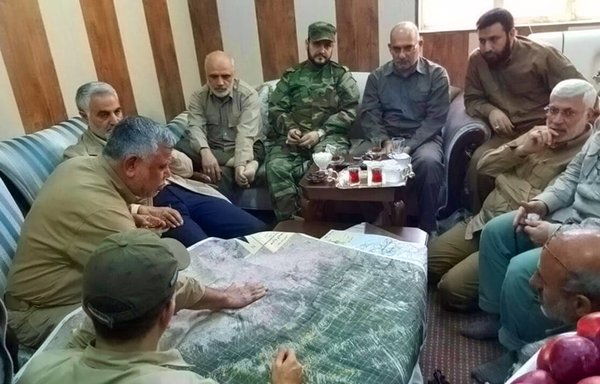 Iran is encouraging Soleimani to visit Iraq during times of tension "to confirm that it is the main player on the Iraqi scene and holds all the solutions for the most intractable issues", said Hilal al-Obeidi, an Iraqi writer and political analyst.
"We have seen Soleimani [in public] on several occasions, the latest of which was the Iraqi parliamentary elections in May 2019 and during negotiations to form the government and appoint cabinet ministers," he told Diyaruna.
"Iran and the IRGC authorised Soleimani to take over the Iraq portfolio since he is influential in the country and has strong relations with Iraqi militia leaders," he said.
Soleimani is considered to be the "de facto commander of all pro-Iran militant factions and groups in the country", al-Obeidi added, noting that he is widely seen as being the most influential Iranian leader in Iraq.
Discontent in Iraqi street
There is "great discontent in the Iraqi street regarding Soleimani's interference in the country's political, security and economic affairs", strategic and military analyst Rabie al-Jawary told Diyaruna.
"Iraqis are concerned due to Soleimani's dominance over several Iraqi factions, political parties and armed factions," he said, noting that the Iranian commander constantly seeks to exert influence on Iraq and its decision making process.
Armed militias in Iraq that are directly linked to Iran include the Badr Organisation, Kataib Hizbullah, Harakat al-Nujaba and Asaib Ahl al-Haq.
"Iraqis do not consider Soleimani a friend, and they are fully aware that his successive visits to Iraq and his activities and meetings with [Abu Mahdi] al-Muhandis [deputy head of the PMF], and other militia commanders is not in their country's interests," he said.
"Iran intends to position Soleimani as the leader with the final say in any Iraqi decision," he said, and to also send a strong message to the world that it will continue to undermine Iraqi sovereignty and deplete the country's resources.
Iran's hegemony and its ongoing targeting of Iraqi political opponents has reached a critical point, he noted, "with the only solution being a firm international stance from the international community to halt Iran's plans".
Iranian interference 'reprehensible'
The IRGC has large numbers of advisers dispersed among Iran-backed Iraqi militias, al-Jawary said.
"These Iranian advisers have thousands of militants under their command that are willing to do anything that Iran asks them to do," he added.
"Soleimani's actions and his interference in our internal affairs are reprehensible," Muhannad al-Fahdawi, 41, told Diyaruna.
"He should focus on the affairs of his country and leave us to govern our own country, free of Iranian tutelage," he said.
"We are not optimistic concerning Iranian officials, be it Soleimani or any other," said Ayman Ali, a 35-year old government employee.
"They only want to weaken and destroy Iraq," he told Diyaruna.
Ali called for deterrent measures to put an end to "suspicious activities of Iranian officials and to adopt strong positions against their influence and blatant meddling" in Iraqi affairs.