Iraqi forces have stepped up their military activity along the border with Syria, an Iraqi official said Thursday (December 27th).
Across the border in Deir Ezzor province, the Syrian Democratic Forces (SDF) are making new progress against the last remaining pockets of "Islamic State of Iraq and Syria" (ISIS) fighters.
"Our forces have begun to strengthen their deployment near the border," Anbar provincial council security committee chairman Naeem al-Koud told Diyaruna.
The al-Jazeera Operations Command and the army's 7th Division plan to withdraw some troops from Anbar's interior and redeploy them at the border, he said.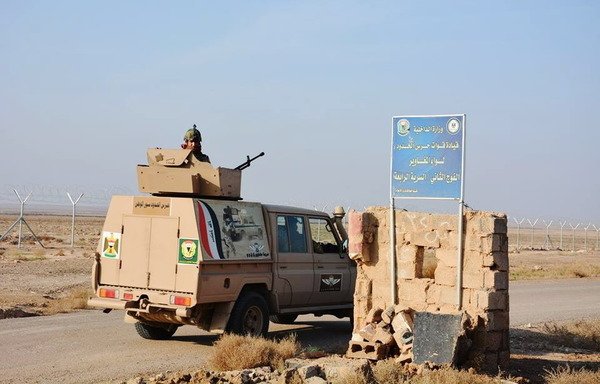 This will strengthen their control lines and their ability to deflect infiltration, he added, noting that military units supported by armoured vehicles have arrived in the border area to join the forces already stationed there.
Along with the increase in troops holding the border, the stepped-up military activity includes a series of precautions to seal any areas that are vulnerable to infiltration attempts, al-Koud said.
"We currently have a barbed wire fence that today runs along 15 kilometres of the border" in western Anbar's al-Qaim district, he said, "and work is under way to extend it further northwards to the border with Syria in Ninawa province".
The troops will continue to use thermal security cameras with a 40-kilometre range, and to build concrete towers at one kilometre intervals along the border, in addition to digging trenches and setting up earth berms, he said.
Tracking ISIS remnants, infiltrators
Special security activities in the desert are going hand in hand with these precautionary measures, al-Koud said.
"Our forces conduct military duties almost daily to track down terrorist sites and cells and to hunt down infiltrators," he said, adding that these activities are carried out based on observations and intelligence information.
Meanwhile, he added, international coalition aircraft have made a strong contribution to border security efforts by striking the hiding places of ISIS remnants in support of Iraqi forces.
"Three days ago, international coalition aircraft pounded terrorist hideouts and groups of elements near the Saad air base (north of al-Rutba), causing losses in their ranks," he said, without giving further details.
Security leaders and local residents have expressed confidence about the security of the border and the ability of Iraqi forces to secure it against any potential breach or encroachment, al-Koud said.