Iraq has been ramping up its security fortifications along the border with Syria in an effort to prevent elements of the "Islamic State of Iraq and Syria" (ISIS) from infiltrating or hiding among families fleeing from Syria.
At least 600 Iraqi labourers and technicians are working round the clock along the border to manufacture barbed wire, metal fences and cement watch towers to install on the border in collaboration with the security forces.
The Iraqi Border Guard Forces have succeeded in installing 125 out of 617 watch towers that will be built on the border with a one-kilometre distance between each tower.
The work also includes installing a wire mesh fence that stretches along 74 kilometres as a first stage, as well as infrared surveillance cameras and the construction of 15 border posts.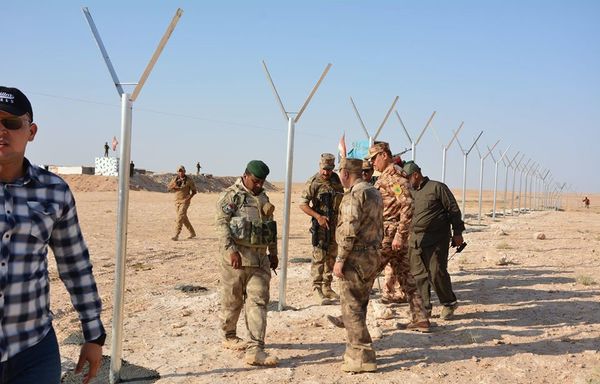 There are also plans to supply the border forces with 34 thermal cameras of varying ranges of up to several kilometres.
On Saturday (December 7th), the Border Guard Command received the first batch of heavy equipment from the international coalition as part of a joint programme to help Iraq build fortifications along the border.
A total of 22 pieces of heavy machinery, including bulldozers, excavators, power shovels and graders, will be delivered to Iraq by the end of 2019.
Col. Mousa Hamad al-Sanad, commander of the Upper Euphrates tribal force that is securing the border area north of the Euphrates river alongside the Border Guard, said the fortifications are proceeding at a fast pace.
There is persistent effort on the part of specialised units to complete the construction of fences, trenches and outposts in addition to installing electronic surveillance devices, he said.
"This technical work significantly complements the security effort by the security forces and tribes to close all the gaps from which the enemy can infiltrate," he added.
"After expelling ISIS from its last holdouts in the Syrian (al-Baghouz) region in March 2019, we have doubled down to prevent terrorists from infiltrating our borders," al-Sanad said.
"We have deployed more border forces and our pre-emptive operations in the desert region along the border strip are now intensifying and held more frequently in order to capture terrorist elements more effectively," he said.
Improved border security, intelligence
Al-Sanad said his forces recently carried out a series of duties with the army in the areas of al-Kaara, al-Dayeh and al-Sahali, where several ISIS hideouts were burned down.
International coalition forces also provide continuous air cover to the Border Guard during their search operations in the desert, he added.
Security expert and retired army officer Jalil Khalaf said that activities to gather intelligence on terrorist infiltrators through the border have improved.
Security and intelligence agencies now have the necessary capabilities to obtain precise information on any movements by terrorists trying to cross the border by hiding among Syrian families fleeing the conflict in their home country, he said.
"There is a database and outstanding intelligence efforts that make it possible to catch infiltrators and thwart their efforts to search for safe geographical havens that allow them to hide and regroup," he added.
"Fortifications are continuously being upgraded within the framework of an integrated security effort that uses remote imaging and sensing techniques, as well as reconnaissance aircraft and deployment of fixed and mobile checkpoints," he said.
Efforts to protect the long and porous border with Syria have been significant and are ongoing until the border strip is completely sealed, provincial council security committee member Shallal Naji Obeid told Diyaruna.
"Terrorist elements are looking for any opportunity to slip through and destabilise security in our country, so we have to be fully prepared to remove this threat," he said.