Iraqi border forces on Sunday (October 14th) repelled an "Islamic State of Iraq and Syria" (ISIS) attack from Syrian territory, directly across the border from the Anbar province city of al-Qaim, the Border Guard Command said.
Iraqi troops stationed in the border area were on high alert after an ISIS attack on border posts belonging to the Syrian Democratic Forces (SDF), Border Guard Commander Lt. Gen. Hamid Abdullah Ibrahim told Diyaruna on Monday.
"The attack took place on Syrian territory, adjacent to areas north of the Iraqi city of al-Qaim," he said, noting that ISIS had tried to take advantage of a sandstorm which caused low visibility in the area to carry out its operation.
"Units of the Border Commandos Brigade responded to the attack and forced the enemy to flee quickly from the border strip, not allowing [ISIS elements] an opportunity to cross the border even one inch into our territory," Ibrahim said.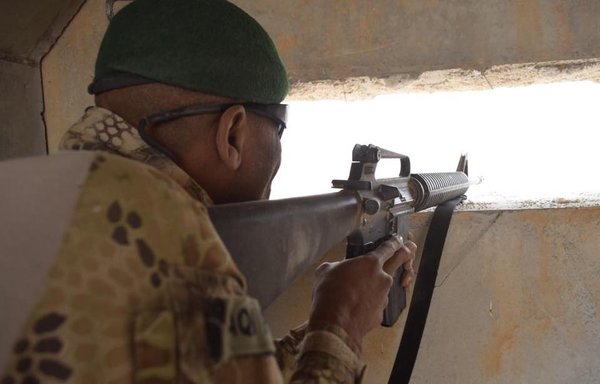 Iraqi troops have been vigilant in monitoring infiltration attempts, and are "ready to thwart all their plans", he said, noting that Iraqi forces have a strong and integrated work plan in place to maintain border security.
The border fortification plan "focuses on developing border fighters' skills in co-operation with the international coalition forces", Ibrahim said, with Iraqi soldiers "heavily deployed and fortified in engagement positions".
Iraq's border with Syria is about 600 kilometres in length, he pointed out, "but we are making a great effort to secure it".
"We have dug trenches, set up berms and deployed concrete observation towers along 100 kilometres of the border strip, with one tower per kilometre," he said.
"We are continuing our work to cover the remaining distance with towers," he added, noting that a thermal camera system and a security fence also are being installed as part of improved security measures.
Preventing infiltration, smuggling
Last month, a group of ISIS elements, led by a deputy ISIS wali, attempted to infiltrate from Syria, Ibrahim said.
The group had intended to cross over into Iraq "to carry out a terrorist operation in the province of Salaheddine", he said.
"The terrorist leader was killed," he said, along with all but two of the infiltrators, who included seven Afghans, in addition to Iraqi and foreign fighters of other nationalities.
Two ISIS elements were captured during the operation, and weapons and drones they had in their possession were seized, he said.
Border Guard forces also have been active in thwarting drug smuggling across Iraq's western border, Ibrahim said.
They have arrested the members of several gangs, most recently two smugglers in al-Rutba district "who were caught smuggling large quantities of narcotics", he said, and have been sentenced to life imprisonment by the Iraqi judiciary.