Syrian fishermen in rural Hama province have been complaining about costly new tributes imposed on them by al-Qaeda aligned groups that control key fishing areas, a local activist said.
As foreign fighters from the Turkistan Islamic Party in Syria imposed new tributes on fishing, Tahrir al-Sham seized control of the trade in several basic commodities, including flour and fuel oil, Idlib activist Musab Assaf said.
Tahrir al-Sham's move increased the price of flour and fuel, placing an additional burden on residents, who are already financially stretched, he told Diyaruna.
New fishing tributes have been imposed on fishermen working in the Qarqour Dam area in western rural Hama, which is controlled by the Turkistan Islamic Party in Syria, in co-ordination with Tahrir al-Sham, Assaf said.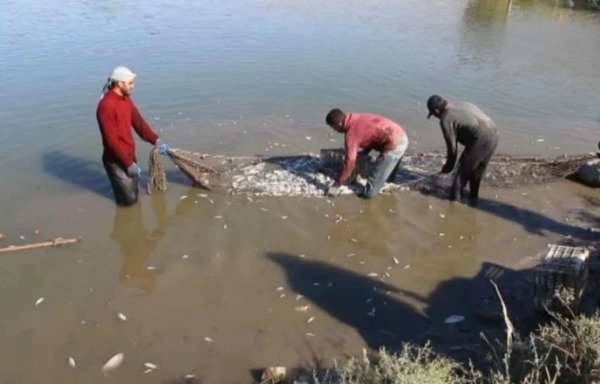 "Fishing in that area requires the opening of the dam's floodgates, so the Turkistan Islamic Party in Syria opens them for a limited period of time, in exchange for the equivalent of about $150 in Syrian currency," he said.
"Those who refuse to pay because they cannot afford to have to give up half of their catch to the group," he added.
The Turkistan Islamic Party in Syria also prohibits fishing on certain days, during which it monopolizes the fishing for its own benefit, Assaf said.
These tributes have caused the price of fish on the edges of Hama province and in Idlib to rise steeply, he said, noting that the price of fish previously had been within everyone's reach, as fish is considered "the food of the poor".
Stoking fear among civilians
The Turkistan Islamic Party in Syria, which has ties with al-Qaeda and is allied with Tahrir al-Sham, is largely comprised of Uighurs, a Muslim ethnic minority based in China's Xinjiang province.
The two groups on Friday (November 9th) staged a large military parade in rural Idlib province.
Dozens of military vehicles, tanks and heavy weapons were paraded from Jisr al-Shughour towards the dividing line with the area controlled by Syrian regime forces, even though the area is within the newly established buffer zone.
Assaf said the military parade stoked fear once again among civilians, who viewed it as an affirmation by Tahrir al-Sham of its strong relationship with the Turkistan Islamic Party and recognition of the party's control over the region.
Tahrir al-Sham has been imposing similar tributes, meanwhile, he said: seizing control of the public grain authority and stipulating that all trade must be conducted through the alliance, particularly in staples such as flour.
This has enabled the extremist alliance to control and raise prices, he said, noting that it has done the same with diesel fuel, which is used in heating, taking advantage of the high demand in the winter season.
Tahrir al-Sham has imposed a monopoly via its fuel sales company, known as Watad, after buying large quantities of diesel fuel in recent months from vendors in the market for meager prices, Assaf said.
The rise in the price of basic commodities has driven up all prices, he added, exacerbating the hardship faced by residents who suffer from lack of employment opportunities and the stoppage of the flow of humanitarian aid.