There are growing fears among the civilian population in Syria's Idlib, Hama and Aleppo provinces that extremist groups present in the region will attempt to form a new alliance, Syrian activists and experts told Diyaruna.
Concerns about a new alliance headed by Tahrir al-Sham, "Islamic State of Iraq and Syria" (ISIS) remnants and al-Qaeda are keeping the region on edge, despite the recently-declared truce and establishment of a demilitarised zone.
For months, Tahrir al-Sham has been communicating with all extremist groups in the Idlib, Hama, Aleppo and Latakia areas with the goal of establishing a new coalition in anticipation of any attack, Idlib activist Musab Assaf told Diyaruna.
"Tahrir al-Sham's efforts have met with considerable success," he said, "and this has sparked fear among civilians over the possibility that the region could be subjected to a vicious and brutal assault to eliminate these groups."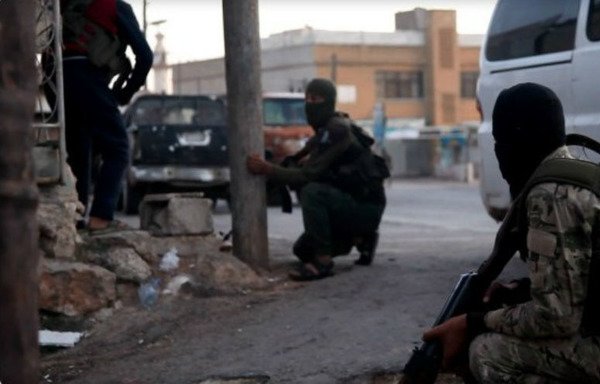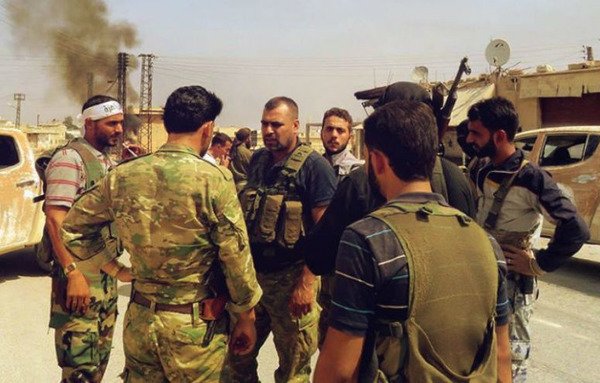 The area's civilian population is also fearful of the occasional infighting that erupts between these factions, and between Tahrir al-Sham and Free Syrian Army (FSA) factions that are allied under the Syrian Liberation Front, Assaf said.
'Only a matter of time'
"Civilians in the Idlib region are certain it is only a matter of time before military operations against the region begin, and that at this point they are inevitable," Assaf said, as Idlib has become a destination for extremist groups.
In response to this growing threat, civilians are taking precautionary measures, such as building basements to use as shelters and excavating and widening natural caves to use as shelters in the event of airstrikes, he said.
The consequences of an assault would be catastrophic, given the dense concentration of people in the Idlib region, he added, which comprises at least three million residents and thousands of internally displaced persons (IDPs).
The displaced population lives in scattered camps under very difficult conditions that will become even more difficult if the declared truce collapses, Assaf said.
Civilians' fears are further heightened by the failure of Tahrir al-Sham and other extremist groups to adhere to the terms of the truce, he added.
Regarding the establishment of a demilitarised zone, none of the extremist groups have pulled their heavy weapons out of the area as agreed, he said, but have instead reinforced their positions with fortifications and weapons.
They have dug many tunnels that link their positions with each other, he added, noting that some sources say Tahrir al-Sham is forcing prisoners to dig them.
Alliances with extremists
"Tahrir al-Sham was able to form alliances with the most prominent radical groups," Syrian journalist Mohammed al-Abdullah told Diyaruna.
Most of these groups subscribe to the ideology of al-Qaeda, and continue to honour their pledge of allegiance to al-Qaeda leader Ayman al-Zawahiri, he said.
These groups had previously refused to join Tahrir al-Sham because it had revoked its pledge of allegiance to al-Zawahiri, he noted.
Among them are Hurras al-Din, ISIS, Ansar al-Tawhid, the Turkistan Islamic Party in Syria, Jaish al-Azza and Liwa Suqour al-Ghab, he said, in addition to Liwa al-Aqsa, Ansar al-Din, Jaish al-Sahel, Jund al-Malahem and dozens of fighters from the recently dissolved Jund al-Aqsa.
Hurras al-Din has the largest concentration of extremist and foreign fighters, followed by the Turkistan Islamic Party in Syria, he added.
"Tahrir al-Sham has made a concentrated effort to attract foreign fighters, and has succeeded relatively well in this," al-Abdullah said, especially with the Asian and European groups.
This is with the notable exception of some opponents who Tahrir al-Sham has descended upon with force, as was the case with a group of French extremists who call themselves "the foreigners".
Roiled by doctrinal disputes
Tahrir al-Sham has generally allowed these groups of foreign fighters to maintain their independence and to exercise control over their areas, al-Abdullah said.
They are concentrated in northern rural Hama and northeastern rural Latakia, as well as in some towns in Idlib, including Kafr Takharim, Sarmada, Harem, Sarmin, Saraqeb, Jabal al-Zawiya, Salqin and Jisr al-Shughour, he said.
Some extremist elements reject the idea of an alliance with Tahrir al-Sham because of doctrinal disputes, which has led to the frequent outbreak of fighting.
Tahrir al-Sham tries to win over extremist groups by saying it does not accept the truce, and is ready to fight regime forces and allied militias, al-Abdullah said.
It also tried to win over extremists by adding the Shahada to the flag of the Syrian revolution, in a bid to unite all the factions in the area under its control, al-Abdullah said.
In Idlib in particular, Tahrir al-Sham allows the factions present in the province to impose tributes and taxes and engage in commercial transactions and smuggling operations to finance themselves, he said.
'The only area they have left'
It is natural that extremist groups would seek to form an alliance in the Idlib region, as it is the only area they have left, said military expert Maj. Gen. Wael Abdul Muttalib, who is retired from the Egyptian army.
This is true of not only Syria but of the entire region, he told Diyaruna, as they cannot travel to Iraq as they used to, or even to any other part of Syria, as they are surrounded on all sides.
The issue of forming an alliance is now a matter of life and death for extremist groups, who are under siege from both the Syrian regime and affiliated militias and the Syrian Democratic Forces (SDF), backed by the international coalition.
By persuading the remaining extremists to enter into an alliance, Tahrir al-Sham aims to present itself as a dominant force on the ground, Abdul Muttalib said.
It is attempting to do this even though many factions oppose its aims, he said.
The battle for Idlib, should it take place, will be "the most vicious of all the battles" that have been fought in Syria, Abdul Muttalib warned.
It would have many negative repercussions, he said, particularly for civilians, who will pay the price for the intransigence of the extremists.