Dozens of "Islamic State of Iraq and Syria" (ISIS) elements have joined forces with Hurras al-Din, following an agreement forged between the two extremist groups and Tahrir al-Sham in anticipation of a regime assault on Idlib, an activist said.
Observers report that dozens of ISIS elements in Idlib province and on the outskirts of Hama and Aleppo have deployed to positions and areas controlled by al-Qaeda affiliate Hurras al-Din, Idlib activist Musab Assaf told Diyaruna.
The move appears to be in anticipation of an assault waged by the Syrian regime and allied militias, he said.
Assaf said he has been able to ascertain through several sources that negotiations were held between the extremist alliance Tahrir al-Sham and ISIS elements regarding the declaration of a truce between the two sides.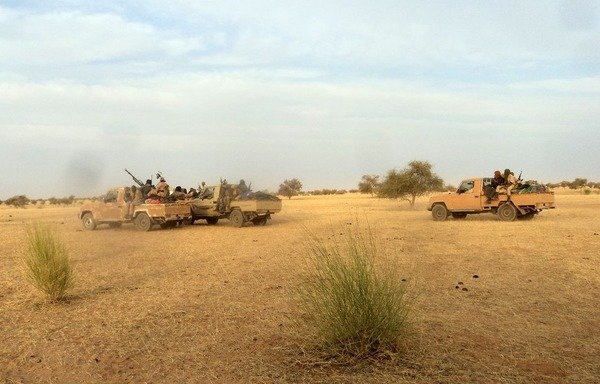 These negotiations established military co-ordination between the two sides with the shared goal of repelling an anticipated attack, Assaf said.
They instigated a temporary merger between ISIS and Hurras al-Din, who would co-ordinate militarily with Tahrir al-Sham, as Hurras al-Din controls a number of areas facing regime-controlled areas.
These are the areas where any battles with the regime are expected to begin.
"Hurras al-Din fighters are deployed in Jisr-al-Shughur and its hinterland, northern rural Hama and rural Latakia," Assaf said.
Hurras al-Din was established earlier this year by a number of former Tahrir al-Sham ideologues who rejected the alliance's declared split from al-Qaeda.
Since its formation, Hurras al-Din has conducted a wide-scale recruitment campaign that has been somewhat successful, owing to the high salaries paid to those who join its ranks, Assaf said.
"This enabled the group to expand the area of its presence, which now extends to the town of Sarmin and neighbouring areas near the city of Idlib," he said.
"Another group that has a presence in the area is the Turkistan Islamic Party in Syria, which makes the area one of the most dangerous, since it now contains the most radical elements in the region and country," Assaf said.
Idlib residents flee the area
These extremist factions are globally designated as terrorist groups, Assaf said, meaning that any agreement struck to spare a military confrontation in the Idlib region would certainly not include these groups.
In anticipation of this danger, residents of the area have been leaving in large numbers for the relatively safer areas to the north, he said.
"Between September 1st and 12th, available information indicates that a sharp increase in hostilities and fears of further escalation has led to the displacement of over 38,500 people," the UN humanitarian agency (OCHA) said Thursday (September 13th).
A UN commission on Wednesday called on extremists and opposition groups in Idlib to leave urban areas to protect civilians from any regime assault, AFP reported.
The proposal came after the UN peace envoy for Syria, Staffan de Mistura, last week suggested a deadline be set for fighters in Idlib to pull back from its cities.
UN agencies and relief organisations have warned repeatedly that any major assault on Idlib could spark one of the worst humanitarian disasters of Syria's seven-year war.
The UN Commission of Inquiry on Syria on Wednesday called for extremists and opposition fighters to leave the most densely populated areas in the region where some three million people live.
"Most of those terrorist groups and other armed groups, they are in the cities," commission chief Paulo Pinheiro said.
"Shouldn't the armed groups move out and spare the civilian population?" panel member Hany Magally said.