Displaced Syrians residing in al-Rukban camp, an informal settlement on the Jordanian border, began a new protest Wednesday (October 10th) to demand the entry of food and medicine to the camp after a long interruption.
Conditions in the camp have reached life-threatening severity, with several recent child fatalities that can be attributed to a lack of nutrition and medical attention, said al-Rukban relief worker Tariq al-Nuaimi.
The situation in al-Rukban camp has spiraled out of control since medical, food and other humanitarian aid deliveries were cut off, he told Diyaruna.
Malnutrition is evident, and the lack of medical care is exacerbating the situation, he said, noting that several children have died over the past few days.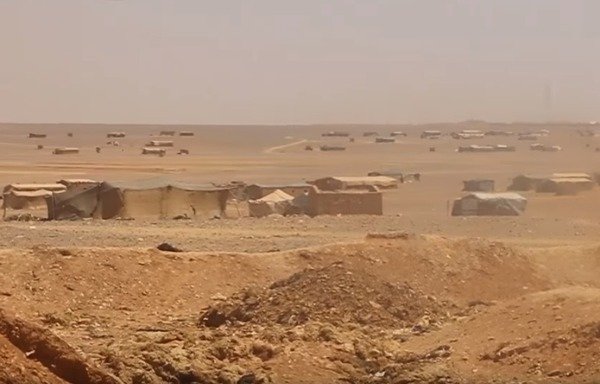 Among them was a 14-month-old boy, Munaf al-Hammoud, and Huda Ruslan, a girl who was barely a few months old.
"After internal consultation, camp residents decided to hold a major sit-in they are calling 'Al-Rukban Camp is Taking its Last Breaths' at the camp entrance to demand a solution to the humanitarian crisis," al-Nuaimi said.
This is not the first sit-in to be held at the camp, but it will be the largest, he said, noting that local and regional media activists have been drawing attention to the protest and participants are leaning towards keeping it open-ended.
Camp residents generally blame the Syrian regime for their predicament, he said, accusing regime forces and allied militias of "blocking or targeting humanitarian aid destined for al-Rukban".
"Camp leaders have tried every avenue to solve the current crisis, and have communicated with most humanitarian organisations to no avail," he said, "as the security situation prevents these organisations from reaching the camp."
They also have reached out to envoys of the Syrian government, who promised to allow medical and food supplies to enter the camp, he said.
But to this date, he added, these promises remain unfulfilled.