The lives of thousands of residents of al-Rukban camp, on Syria's border with Jordan, are at risk due to a lack of basic medical care as the novel coronavirus (COVID-19) pandemic spreads in the region, Amnesty International has warned.
Of particular concern is a lack of maternal health care, which means pregnant women in need of caesarean section are being forced to travel to give birth in regime-controlled territory, Amnesty said in a May 7th statement.
Syrian regime forces then prevent these women from returning to their families in the camp, the human rights organisation said.
At least 10,000 people reside in the desert camp, with no access to sanitation or materials to protect against the spread of COVID-19, it said, noting that the camp's only medical centre has no doctors, a few nurses and one midwife.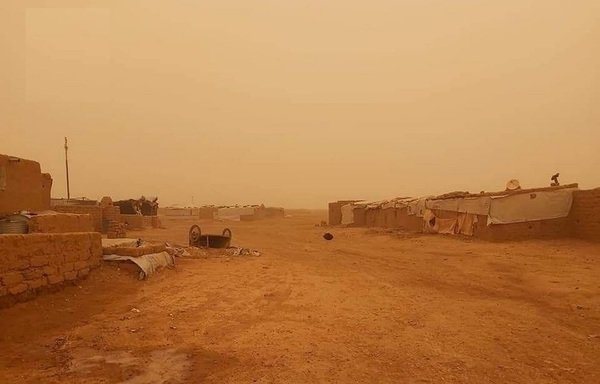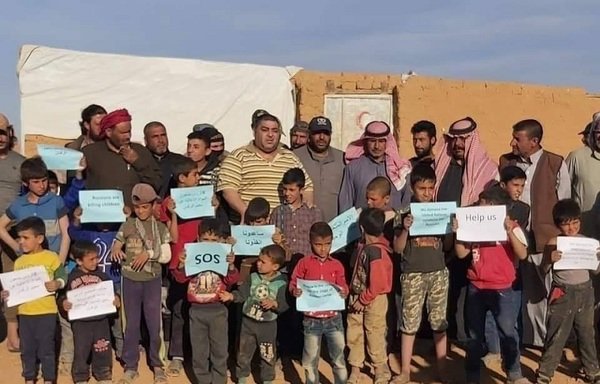 A UNICEF-run medical centre in the camp, where residents could receive essential treatment, was closed in mid-March due to the COVID-19 pandemic. And the last humanitarian convoy to reach the camp arrived in September 2019.
'Dire situation'
Already difficult, the medical and living conditions al-Rukban camp residents are now facing have become dire, al-Rukban relief worker Tariq al-Nuaimi told Diyaruna.
In addition to a shortage of medical supplies and medicine, food and baby formula have become scarce in the camp, he said.
No measures are being implemented in the camp to fight coronavirus, he said, "and of course there are no tests, ventilators or personal protection equipment (PPE) such as masks or gloves".
Neither is there quarantine space to isolate those suspected of being infected.
The entry of food and medical aid has been repeatedly delayed, al-Nuaimi said, noting that a planned health assessment and assistance mission by the UN and the Syrian Arab Red Crescent that had been slated for late April did not proceed.
The stalled delivery of aid consisted of 2,300 food rations that would have provided temporary aid to about three quarters of the camp's residents.
Even smugglers who bring in food items to sell are facing difficulties, he said, due to the security conditions around the camp and a recent severe dust storm, which have made it difficult to move into and out of the camp.
Vegetables, fruit, milk and flour have become scarce, and this has had a severe adverse effect on the health of the camp population, he said.
The severe shortage of medical supplies and basic medicines also has contributed to a deterioration in the health conditions of residents, he added.
Aid mission delayed
In an April 29th briefing to the UN Security Council, UN Under-Secretary-General for Humanitarian Affairs and Emergency Relief Co-ordinator Mark Lowcock addressed the situation in al-Rukban camp.
"Informal commercial supply routes from Damascus and Dhumer were closed off in February, further disrupting the delivery of food, fuel and medical supplies into the camp," he said.
"Jordanian border restrictions related to COVID-19 since March 18th have impacted medical referrals from al-Rukban without prior COVID-19 screening, which is unavailable in the camp," he said.
The April mission "was suspended due to lack of agreement by all parties on the modality of assistance and delivery", he said.
"Access is urgently needed to provide assistance to the vulnerable al-Rukban population and to support voluntary departures."