Human Rights
|
2018-11-05
Food, medicine reach Syria's al-Rukban camp
By Waleed Abu al-Khair in Cairo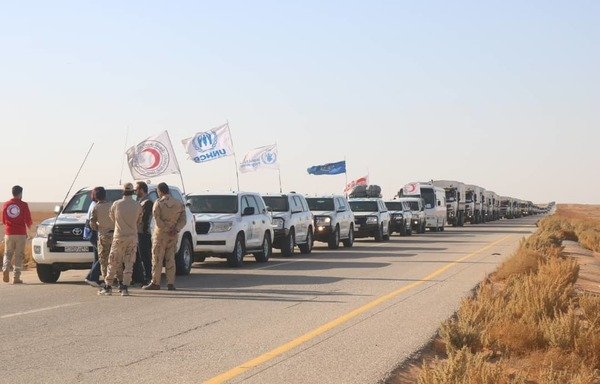 There has been a palpable sense of relief in al-Rukban, a Syrian displacement camp near the Jordanian border, since the UN and Syrian Arab Red Crescent brought in an aid convoy on Saturday (November 3rd), a relief worker said.
The delivery, the first since January, seeks to provide humanitarian assistance to 50,000 people at the informal camp in southeastern Syria, AFP reported.
More than 70 trucks have transported around 10,000 food parcels, bags of flour and clothes for 18,000 children into the camp, the Red Crescent said.
The aid also includes newborn baby kits for 1,200 children, medicines, medical supplies and nutritional supplements for children and women, it added.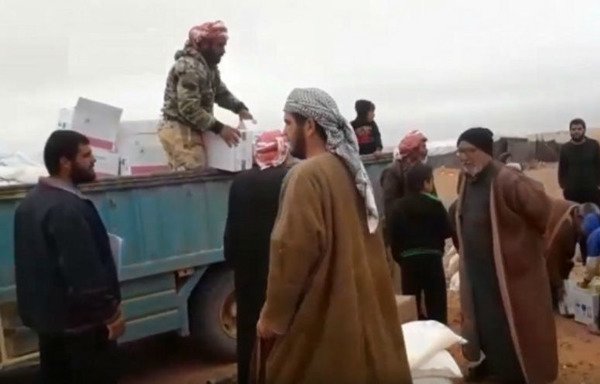 In the 10 months since the last aid delivery arrived at al-Rukban, conditions inside the camp have deteriorated to a tragic level, al-Rukban relief worker Tariq al-Nuaimi told Diyaruna.
Several children have died due to lack of nutrition and medical care, he said.
Last month, a four-month-old girl died of blood poisoning and dehydration, and a five-day-old boy lost his life to blood poisoning and severe malnutrition, according to UNICEF.
Aid distribution begins
The distribution of aid began Monday after the cargo was unloaded, which has given camp residents an enormous sense of reassurance, al-Nuaimi said.
All measures are being taken to ensure the aid is distributed equitably, and to prevent any attempt to exploit the situation and sell the aid for profit, he said.
To this end, Jaish Maghawir al-Thawra, in co-operation with the camp's local council, has been securing the distribution process, he said, noting that it also played a role in securing the convoy's entry into the camp.
Jaish Maghawir al-Thawra is a Free Syrian Army (FSA) faction operating in Syria's Badiya (desert) region, that has played a key role in protecting local residents from the "Islamic State of Iraq and Syria" (ISIS).
The fresh supply of aid and the services that will be provided by the UN team will ease the situation in the camp, al-Nuaimi said.
Vaccinations for children
The 77-truck convoy brought in food items, including cereals, oils, sugar, salt and flour, he said, along with winter clothes for newborns and children up to the age of 14, family hygiene kits, medical supplies and plastic tarps.
"The distribution process will take place in three stages that roughly correspond with the camp's main population concentrations, to ensure all residents are included," al-Nuaimi said.
Announcements will be made this week concerning vaccinations for children under the age of 5, which will commence once medical posts are set up throughout the camp, he said.
According to the UN's humanitarian co-ordinator in Syria, the emergency vaccination campaign will inoculate around 10,000 children against measles, polio and other deadly diseases.
Preparations also are under way to set up permanent medical posts to provide health care in the camp in co-ordination with UNICEF, the Red Crescent and the camp's administration, al-Nuaimi added.
Allowing access to aid
UN under-secretary-general for humanitarian affairs Mark Lowcock last week drew the Security Council's attention to conditions at al-Rukban, AFP reported.
He noted the increasingly desperate situation and cited "continuing reports of children dying due to poor sanitary conditions and a lack of healthcare".
France's Ambassador François Delattre, who described conditions at al-Rukban as "nightmarish", said allowing access to aid was incumbent on all parties.
"It is unacceptable that the regime has blocked inter-agency convoys for more than two months now and put in place a punitive strategy to channel the aides to 'reconciled' zones," he said.
The convoy was the first to arrive in al-Rukban from Damascus, after the last delivery from Jordan in January, and came "after guarantees from all parties" were obtained, Red Crescent president Khaled Hboubati said in a statement.
"The aid arriving has provided some relief to the displaced, but if it then stops and does not continue on a regular basis, the camp will return to its bad state," al-Rukban resident Abu Karim told AFP.
"The aid entering will solve the food crisis in the camp, but there is still the health issue," he said. "There is great suffering as we have no doctors, hospitals or even field hospitals or a place for first aid."