The resumption of clashes near Daraa city between Free Syrian Army (FSA) factions on one side and the Syrian regime and allied militias on the other has broken the relative calm that prevailed under the de-escalation agreement.
Months of calm had followed the implementation of the de-escalation agreement, which officially expired in mid-March, and which the Syrian regime has refused to renew for an additional period.
"Fierce battles are raging in Daraa between FSA factions and Syrian regime forces," said Yasser al-Turkmani, an FSA officer in the Daraa region.
These are particularly intense in the market area in Daraa al-Mahatta -- the city's northern and western neighbourhoods -- and on the outskirts of the Daraa camp, he told Diyaruna on Tuesday (April 3rd).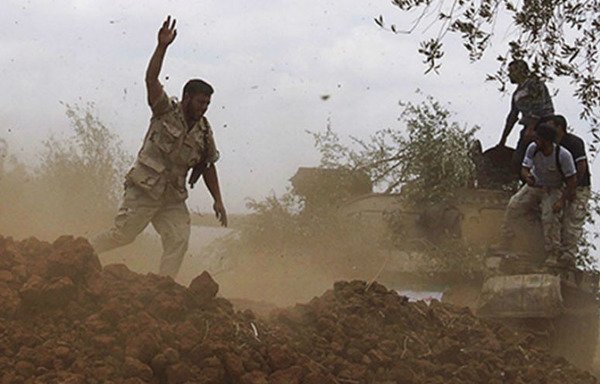 All kinds of weapons are being used in the clashes, he said, adding that regime forces and allied militias have been shelling areas under FSA control.
Truce agreement expired
Local residents fear a repeat of the Eastern Ghouta scenario, al-Turkmani said.
The area had been calm since the de-escalation agreement was signed in the Khazakh capital of Astana in mid-September, "but the truce period expired about a month ago and has not been renewed", he said.
"If the fighting intensifies it will result in a high number of civilian casualties, due to the overlap in the areas of control within and around the city," he said, as the regime and its allies control some neighbourhoods and the FSA controls others.
Residents fear they will be targeted or displaced by sectarian militias in the region formed by Iran's Islamic Revolutionary Guard Corps (IRGC) at the outbreak of the war in Syria, and by Lebanon's Hizbullah, al-Turkmani said.
Tensions have spread to the city of Busra and its surrounding areas in Daraa province after unknown individuals burned down a number of houses.
"The occupants had been accused of working with the regime's forces or their sons had been accused of fighting in the ranks of the regime's army," al-Turkmani said.
This heightened the tension inside the city itself between those who reject or support such actions, he said, and also in its surrounding areas, where regime forces are positioned.