Hundreds of families have fled a city in southern Syria following a circulated warning of an impending regime offensive, local activists told Diyaruna.
The Syrian army's 9th Division Command this week informed residents of the city of al-Sanamayn, in northern Daraa, that they must leave the area before the launch of a wide-scale military operation, activists said.
The ultimatum triggered panic and a mass exodus.
For two days, the army circulated and broadcast a statement asking residents to leave the city before the launch of ground and air military operations, said Yasser al-Turkmani, an officer with the Tawheed Kataib Horan Brigade.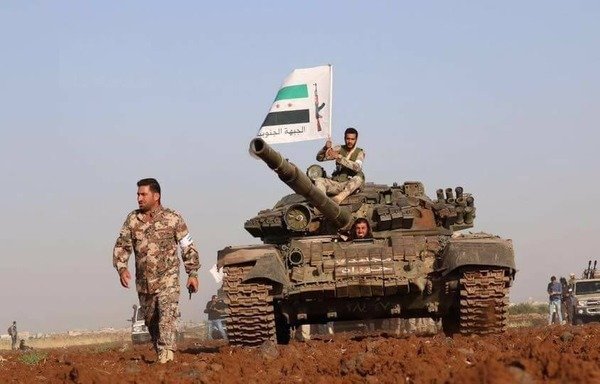 The regime set a deadline of Tuesday (January 23rd) for residents to leave.
"Ongoing communication succeeded in extending the deadline by an additional 24 hours, however, to give residents time to leave, or to resolve the issue that led to the ultimatum," he said.
Following the regime's ultimatum, al-Turkmani said, hundreds of families have been leaving the city via a crossing designated by the regime, where they are being subjected to a search and identity check before being allowed to leave.
Up to 100,000 civilians live in the city, he said, including internally displaced persons (IDPs) from other areas and 5,000 Free Syrian Army (FSA) fighters, who are thought to be the main target of the regime's pending military operation.
Tensions triggered ultimatum
Tension arose when regime forces claimed that a soldier from the 9th Division had been kidnapped in the city, and two senior officers came under fire.
City residents and armed opposition groups denied this charge, pointing out that the city had been under a truce agreement since 2016 that called for a halt in the fighting and return of civilian life to the city and its surrounding area.
"There are serious doubts among the local population about the validity of the regime's ultimatum," al-Turkmani said, "as this year has seen military movements and the arrival of reinforcements in the area."
Most recently, he noted, combat troops have been brought in from Ghouta.
At present, roughly half of the city of al-Sanamayn is under opposition control and half is under regime control, al-Turkmani said.
Most FSA factions in the southern region have formed an operations room under the command of Capt. Abu al-Hakam al-Eid to repel any regime attack, he said.
Participating factions include the Ussud al-Islam Brigades, Ahfad Omar Brigade, Shuhada Inkhil Brigade, Khalifa Omar Brigade, Fursan Horan, Martyr Jamil Abu al-Zein Brigade, as well as Ahbab Omar al-Bayoumi, Fawj al-Madfaiya, Jaish al-Ababil, Suqur al-Sanamayn Brigade, March 18 Division and AlulBayt Brigade.