As the Syrian regime and its allies press an offensive to retake opposition-held parts of the southern province of Daraa, extremist groups have stoked the flames of war by calling on their affiliates to join the fight.
Overnight airstrikes put three hospitals in the opposition-controlled towns of Saida, al-Mseifra and al-Jiza out of service, the Syrian Observatory for Human Rights said Wednesday (June 27th).
On Wednesday morning, heavy Syrian regime and Russian raids, rockets and barrel bombs were still hitting opposition-held neighbourhoods, AFP reported.
As the regime intensified its assault and at least 45,000 civilians fled the area, the extremist Tahrir al-Sham alliance issued an appeal to all factions to join the battle and repel the regime's assault, a local official said.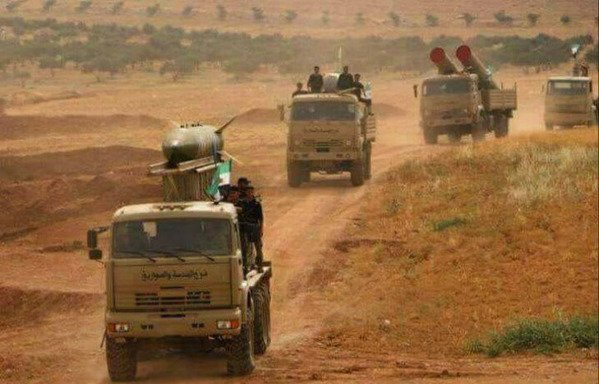 In a statement issued in response to Tahrir al-Sham's appeal, extremist Hurras al-Din affirmed its readiness to co-operate with anyone who wishes to "fulfill this duty" in Daraa, said Free Syrian Army (FSA) officer Yasser al-Turkmani.
Hurras al-Din comprises factions that have pledged allegiance to al-Qaeda, among them Sariyat Kabul, Jund al-Sharia, Jaish al-Badiya, Jaish al-Sahel, Jund al-Malahim and Saraya al-Sahel, he told Diyaruna.
Ansar al-Din Front, an alliance that includes Sham al-Islam and Fajr al-Sham factions and subscribes to al-Qaeda's ideology, also announced its participation in the battles, he said.
Extremist participation not welcomed
Despite the intensity of the regime's airstrikes and shelling, the announcement of the participation of extremist factions in the battle did not meet with support from local residents or the non-extremist FSA factions, al-Turkmani said.
Far from helping the moderate opposition, the announcements from Tahrir al-Sham and Hurras al-Din "have given credence to the regime's claims that the battle is directed at extremist groups in the Daraa region", he said.
"This has given the regime a pretext upon which to carry out brutal military operations during its advance, particularly aerial bombardment," he added.
Al-Turkmani said the fighting on the ground has comprised a series of attacks and retreats by FSA factions and the regime, particularly near Busra al-Harir.
The regime announced it had entered the Busra al-Harir area, while the FSA said it took it back in a Tuesday morning operation.
FSA factions said they have killed or captured a number of regime-allied fighters and downed a second regime military jet, capturing the pilot after he ejected.