Schools have been closed in most parts of Idlib province due to the fraught security situation and fears they will come under shelling or airstrikes as fighting continues in the city's outlying areas.
Battles continue to rage between armed opposition groups on one side -- including some extremist factions -- and the Syrian regime and its allies.
Amid the intensified fighting, Idlib Directorate of Education has circulated a decree calling on all educational institutions to suspend the education process, said teacher and directorate official Tawfiq Awwad.
"The decision particularly applies to the areas of Abu Duhour, Khan Sheikhoun and Marea, which are close to the combat zones," he said, "as students who attend these schools are at real risk of harm from shelling or airstrikes."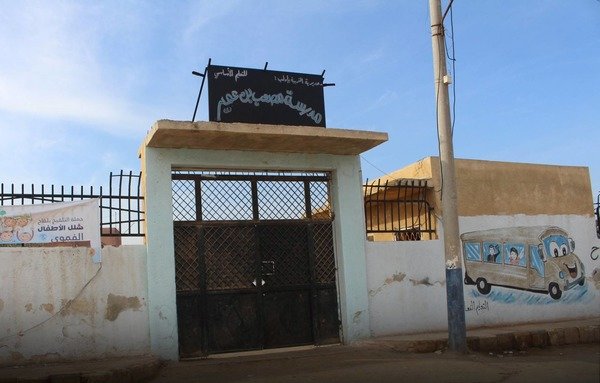 In truth, however, the education process has been halted for some time, he told Diyaruna, as most of the residents of these areas have fled or refrain from sending their children to school out of fear for their safety.
The education process has been suspended in many other parts of Idlib, he noted, adding that only a few schools remain open in the western parts of the province, as these institutions are relatively far from the fighting.
Education system stymied
Awwad scoffed at the directorate's insistence on holding the quarterly exams in the schools that are still open, telling Diyaruna the decision was met with huge opposition from teaching staffs.
The directorate has insisted on holding them, however, even though there are no more than 10 schools in which it is able to do so, he said.
"Continuing the education process in some schools but not others would create a difference in the education level between students of the same age and grade level," Awwad said.
"Also, students cannot concentrate, which would defeat the purpose of the exams," he added.
A number of schools in the city of Idlib and surrounding areas have become shelters for displaced persons from areas that have fallen in the hands of the regime and its allies, or adjacent areas.
The education process in Idlib has been witnessing a severe decline for months because of the lack of support for it, Awwad said, which has resulted in a significant drop in the number of both teachers and volunteers.
Teachers unpaid and afraid
Many teachers have refrained from teaching because their salaries have been cut off for many months, he said, and the number of volunteers has dropped significantly.
This can be largely attributed to the absence of international relief and humanitarian organisations, which have been prohibited from operating in the region by Tahrir al-Sham, he said.
Since the extremist alliance seized control of areas outside the regime's control, the volunteers' movements have been fraught with danger, he explained.
Tahrir al-Sham, which is dominated by the former al-Nusra Front (ANF), itself "prohibited a large number of volunteers from working as teachers because of their opposition to the alliance", Awwad added.
The alliance forced volunteers and teachers who wished to remain in their profession to undergo training and "sharia" courses before continuing to teach in area schools, he said.