Al-Tabqa Civil Council has been working to return children who were deprived of an education for almost four years during "Islamic State of Iraq and Syria" (ISIS) occupation of al-Tabqa-area schools.
Before this can be done, however, schools must be equipped, teaching staff assembled, supplies secured and the spirit of learning must be rekindled in students after the long hiatus.
About 15 schools in the al-Raqa province city of al-Tabqa are heavily damaged.
The US government has pledged to repair five schools, while the remaining schools await some party to step up and contribute to their rehabilitation, said al-Tabqa Civil Council deputy of the co-presidency Awas Khalil.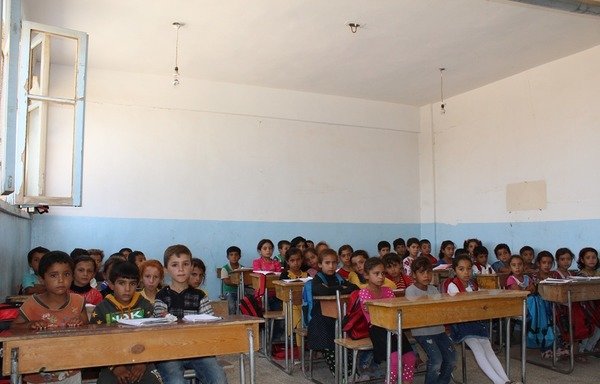 The council recently held make-up classes for students who did not attend school while ISIS was in control, using modest resources and with the help of parents, he told Diyaruna.
These classes came about after several meetings with parents, he said, in which the council stressed the importance of education and the need to send the children back to school.
"We as a council are determined to educate our children under any circumstance," Khalil said. "If we do not find seats, we will sit on the floor and teach and learn."
"There are 13-year-old children in Tabqa who have not received any schooling whatsoever, and if we do not educate them, they will be a burden on us and the international community," he added.
"We will provide education with whatever resources we have available to us," he said, noting that there are approximately 13,000 prospective students in the city, including internally displaced persons (IDPs).
A large number of teachers have volunteered to teach, he said.
School year to begin mid-September
The council's education committee has decided to kick off the 2017/2018 school year in mid-September, said committee member Ghanem al-Faraj.
The first schools to open will be those in al-Tabqa and in the towns of al-Jurniya and al-Mansoura, he told Diyaruna.
"Out of 33 schools in the area, only five are fit to receive students in the city of al-Tabqa and four in its rural areas, while four others are totally destroyed and some require extensive repair," he said.
Al-Faraj said some schools in the area are overflowing with IDPs and are impossible to vacate at this time.
Two schools have opened on a voluntary basis, he said: a co-educational school in Buhaira district, which serves 580 students, and a primary school in al-Wahab area of al-Tabqa's al-Rafidayn district, which serves more than 500 students.
"Al-Tabqa Civil Council is determined to combat illiteracy and ignorance, which have spread in recent years because of ISIS's occupation of the region, which produced a generation that has not received any schooling," al-Faraj said.
Veteran teachers will be given priority in deciding where they will teach, he said, and a large number of volunteers have expressed their desire to teach this year.
Teachers have attended training courses to prepare for the school year, he added.
Widespread illiteracy under ISIS
"During its occupation of the region, [ISIS] spread illiteracy and ignorance, banned education, occupied some schools and destroyed and demolished others," said al-Tabqa native and former government employee Salem al-Khalaf.
The group knew full well that raising an uneducated generation would make it easy for it to control the minds of youth, he told Diyaruna.
Al-Tabqa Civil Council has been addressing the situation with determination, he added, insisting on resuming the education of children who have been deprived.
Al-Khalaf said his three children -- one of whom is 11 years old -- have not received any schooling.
The 11-year-old was supposed to start school the year ISIS invaded the region, he said, "and other two were not able to go to school for the same reason".
He said his wife was able to teach them to learn how to read.
"However, the disaster hit hardest uneducated parents who were unable to teach their children or their circumstances did not allow them to do so," he said.
This has left many of al-Tabqa's children unable to read or write, al-Khalaf said, adding that "their return to school will now definitely save them from the scourge of illiteracy".
"I am very happy that many parents have decided to send their children to school after they thought their children had missed the train," he said.
In some cases, he added, this is due to the intervention of al-Tabqa Civil Council's education committee and some teachers, who have worked together to raise awareness among parents and children about the importance of education.