The Iranian regime is implementing a plan to bring about demographic change and promote its ideology in strategic parts of Syria, with these efforts heavily focused on the eastern province of Deir Ezzor, local activists said.
Since Iran-aligned militias entered the region about six years ago, Tehran has been trying to pressure local residents into changing their sectarian affiliation, Deir Ezzor journalist and activist Ahd al-Sulaibi told Al-Mashareq.
It has been doing this by opening advocacy institutions such as the Iranian Cultural Centre, where Persian language classes are held, along with religious seminars, courses and events aimed at children, he said.
The Iranian Cultural Centre organises trips to the Ain Ali shrine in the vicinity of al-Mayadeen. The Shia shrine, in the desert area around al-Quriah, is heavily guarded by the Islamic Revolutionary Guard Corps (IRGC).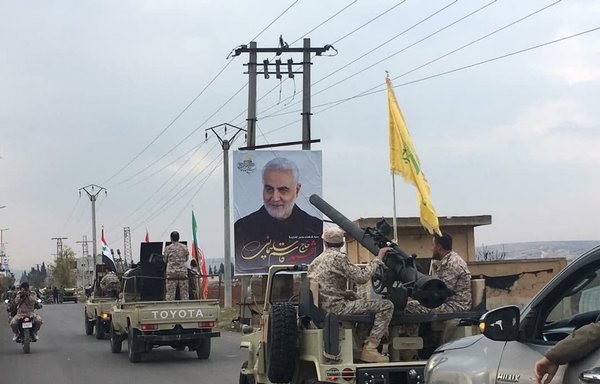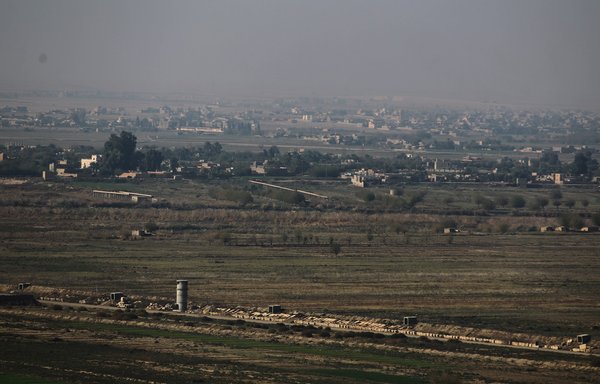 The centre also organises activities and trips for students to Karamish Park, which is in an area of Deir Ezzor city controlled by Iranian militias, and which Iranian engineers rehabilitated with much fanfare in 2021.
Other centres, such as the "Bright Light" in al-Mayadeen and the "Friendly Brothers" in Albu Kamal, offer similar programmes for children, which local activists have described as thinly veiled proselytisation efforts.
Religious expansion
Iran is actively intensifying its religious presence in the region -- and not just through educational or cultural centres, activists said.
The IRGC also has converted mosques -- among them Abdullah bin Abbas mosque in the Syria-Iraq border town of Albu Kamal -- into husseiniyahs, or Shia congregation halls.
The husseiniyahs are managed by influential Iran-affiliated militias such as the Iraqi militia Kataib Hizbullah and the IRGC-led Fatemiyoun Division.
In a September 2022 report, the Eye of the Euphrates media outlet said the IRGC has established two hotels in the Deir Ezzor border town of al-Hari to serve as overnight rest stops for convoys of Iranian and Iraqi pilgrims.
Iran has been making a concerted effort to win over the hearts and minds of the local population in order to cement its gains in parts of Syria it controls.
It is doing this largely by promoting the doctrine of Wilayat al-Faqih (Guardianship of the Jurist), which calls for allegiance to Wali al-Faqih (the Guardian Jurist) -- Iran's supreme leader, Ali Khamenei.
This Shia theological proposition justifies Iran's dictatorial system of rule and export of "revolution" across the region but is largely dismissed in the broader Shia community as a theological anomaly.
Iranian efforts to promote this ideology increased in November 2017, when Iran-aligned militias began to stretch out in the area after it was cleared of "Islamic State of Iraq and Syria" (ISIS) elements, al-Sulaibi said.
But these efforts have won over fewer than 10,000 new adherents in total, he said, asserting that most of the converts -- the majority of whom reside in Hatla village, north of Deir Ezzor -- do not firmly believe in the teachings.
Seizing property
Iran is making efforts to manipulate the region's demographics through several other methods, including by acquiring real estate after destroying or forging documents that demonstrate proof of ownership, according to numerous reports.
In an April 27 report, the Syrian Observatory for Human Rights said its activists had observed an IRGC-aligned militia converting houses in Albu Kamal into military headquarters and barracks.
The conversion took place after the property owners were forced to leave their houses, the Observatory said.
The IRGC also has reportedly seized agricultural lands in al-Baghouz -- the last Syrian stronghold of ISIS.
Iran-backed militia members falsely claim they are buying the houses, other buildings and agricultural lands from their owners, according to various reports.
Many are living in houses originally owned by opponents of the Syrian regime or other residents who left the area when it was under the control of ISIS or who fled afterward under pressure from the IRGC, al-Sulaibi said.
The militias have refused to vacate these houses despite requests by many owners who have decided to return to their hometowns, he said, noting that some houses have been transformed into fortified sites.
Iran will continue to attempt to expand its influence and promote its ideology in Deir Ezzor province, he said, as the area is a strategic location that is being used for transferring weapons and fighters between Iraq and Syria.