US forces on Saturday (January 21) captured three "Islamic State of Iraq and Syria" (ISIS) operatives during a helicopter and ground raid in eastern Syria, the US military's Central Command (CENTCOM) said Sunday.
The three were described as facilitators, a logistician and an "associate" of the extremist group.
The latest operation targeting ISIS leaders and operatives in Kurdish-controlled eastern Syria follows a December 11 pre-dawn helicopter raid in which US forces killed two ISIS "officials", and other successful raids on ISIS elements.
It also comes as the United States and Kurdish forces work to eradicate ISIS violence in Kurdish-run camps by calling on the countries that have citizens in these overcrowded facilities to repatriate them.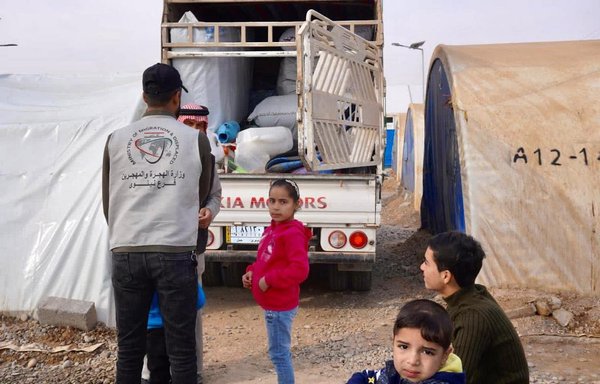 On January 14, 142 Iraqi families were repatriated from al-Hol camp in Syria's northeastern al-Hasakeh province, in the eighth such transfer.
Under security escort, the convoys travelled to their final destination: al-Jadaa rehabilitation centre in southern Mosul.
The 580 Iraqis -- most of them women, children and the elderly, are expected to attend a rehabilitation programme for about two or three months before they are reintegrated into their hometowns.
Their arrival came after a two-month suspension of a programme to voluntarily return displaced Iraqis from al-Hol camp that started in mid-2021.
Iraq's Migration Minister Evan Jabro on December 29 announced the programme had been temporarily halted for logistical reasons, including security checks and provision of the required support and care services to ensure community reintegration for returnees.
She said the repatriation of Iraqis will resume in early 2023 under the supervision of the National Security Agency (NSA).
The NSA is responsible for conducting security checks of the returnees' backgrounds and making sure they do not have any links to ISIS.
Dismantling sources of terrorism
Following the most recent repatriations, Iraq's National Security Advisor Qassim al-Araji said efforts continued to find a solution once and for all for the issue of Iraqi families in al-Hol.
Iraq "is working on dismantling the sources of terrorism and closing al-Hol camp as per a national vision for reaching sustainable security for Iraq and the region after those families are psychologically and socially rehabilitated", he said.
Iraq plans to gradually repatriate some 8,000 Iraqi families that are still in al-Hol in co-ordination with the Syrian Democratic Forces (SDF) with the support of the international coalition.
The aim is to put an end to the crisis in the camp, which also hosts thousands of families of Syrian ISIS fighters as well as other fighters of different nationalities.
CENTCOM commander Gen. Michael "Erik" Kurilla lauded the Iraqi government for "its constructive and courageous role" in the repatriation of its citizens.
"Along with our partners in the SDF, we will pursue similar opportunities to reduce the population at al-Hol camp, thus averting ISIS efforts to exploit conditions and human suffering of displaced people at the camp in its recruitment," he said.
Repatriation, rehabilitation and reintegration of camp residents are "so critical for Iraq, for the region, and for the enduring defeat of ISIS", he added.
Putting an end to the problem
"The longer those displaced people remain at the camp, the greater the danger they may be influenced by terrorist ideology and recruited by ISIS," Ninawa deputy governor Ali Omar Kabu told Al-Mashareq.
"In view of this, and on humanitarian grounds, the government started to approach this thorny issue responsibly and legally to prevent the camp from turning into a breeding ground for terrorists," he said.
He noted that the returnees from al-Hol are only the Iraqis who fled from ISIS when the group captured Mosul and other Iraqi cities in 2014.
They do not include those who collaborated with ISIS or those who were fighting in Syria's al-Baghouz in 2019 before they were crushed in their final stronghold and their wives and children transferred to al-Hol, he said.
So far, around 1,085 Iraqi families have left al-Hol for their homeland.
Iraqi authorities, in co-operation with international organisations and volunteers, have rehabilitated some 656 returnee families and successfully reintegrated them into their original communities.