Despite the return of close to 5,000 Iraqis from Syria's al-Hol camp over the past two years, repatriations are still proceeding at a slow pace amid calls to expedite the process.
Iraqi authorities said they are committed to returning all Iraqi nationals from the camp as soon as possible, as the issue "affects national security at the core", but that challenges remain.
The Kurdish-run camp in al-Hasakeh province is home to more than 50,000 people, including family members of suspected "Islamic State of Iraq and Syria" (ISIS) militants. At least half of the camp's residents are Iraqi nationals.
Ali Jahankir, media director for Iraq's Ministry of Immigration, said that Iraq has strict security measures in place to ensure returnees are not affiliated with ISIS, which causes a delay in their repatriation.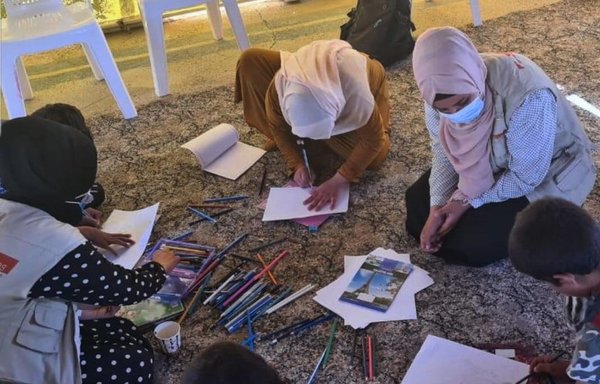 Once repatriated to their country, Iraqis are taken directly to al-Jadaa camp south of Mosul, where they receive emergency relief and medical support, and undergo rehabilitation programmes that will facilitate their reintegration in society.
Jahankir said challenges remain in meeting the requirements of rehabilitating large numbers of individuals who arrive from al-Hol at the same time.
Currently, al-Jadaa is the only camp with a rehabilitation centre devoted to providing physical and mental health services to al-Hol returnees.
Security challenges
To date, over half of al-Hol returnees have responded well to the rehabilitation programmes offered in al-Jadaa with support from the United Nations (UN), and have been reintegrated into their former communities.
During his visit to Iraq in March, UN Secretary-General António Guterres praised Iraq's repatriation efforts and encouraged Iraqi authorities to continue working towards the accelerated community-based reintegration of returnees.
He underlined the UN's full commitment and support for what he called "this vital effort".
In a statement issued on March 23 -- the fourth anniversary of ISIS's defeat in Iraq and Syria -- the US State Department reiterated its commitment to identifying and advancing solutions for the tens of thousands of people who remain in the al-Hol and Roj camps.
Roj camp houses foreign women and children from a number of countries.
"We stand ready to help other countries with the logistics of repatriation, and the sharing of our expertise to facilitate rehabilitation, reintegration, and, when appropriate, prosecution," the statement said.
"The issue of repatriating Iraqis from al-Hol still raises security concerns among many, although no one opposes any humanitarian step that is taken," Iraqi MP Sharif Suleiman told Al-Mashareq.
It is important that security and verification measures be taken in the process of rehabilitation, he said.
Last year, the Syrian Democratic Forces (SDF) and the Kurdish internal security forces (Asayesh) led a massive campaign to purge al-Hol of ISIS cells in the wake of a surge in killings and kidnappings inside the camp.
Security forces discovered that ISIS cells had been using tents in the camp to train children to carry and use weapons and to disseminate terrorist ideology.
Some tents were used as "sharia courts", with residents who oppose ISIS getting detained and tortured by the extremists.
Over the course of the security campaign, instruments of torture were found, in addition to improvised explosive devices (IEDs) and phones and laptops that belonged to the group.
Hunting down ISIS cells
The SDF, with support from the US-led coalition, continues to pursue ISIS cells inside the camp.
On May 2, the SDF arrested five women of different nationalities who were accused of belonging to ISIS, according to the Syrian Observatory for Human Rights.
The SDF is also carrying out combing operations to secure the towns and villages near al-Hol camp.
In its latest operation on May 1, special units of the SDF, with aerial support from coalition forces, conducted a raid in the town of al-Hol in the eastern countryside of al-Hasakeh.
The operation led to the arrest of two ISIS operatives who are accused of smuggling weapons to the group's cells in the camp, the SDF media centre said in a statement.
The detained were also actively smuggling ISIS elements out of the camp and facilitating their transport to other areas, it said.