The United States and Jordan have reaffirmed their "ironclad" strategic partnership, signing an agreement the kingdom described as "unprecedented in terms of its duration and the size of financial assistance it entails".
Through the agreement, described as "one of the most significant bilateral instruments of its kind", the United States supports providing $1.45 billion per year in foreign assistance to Jordan between fiscal year (FY) 2023 and FY 2029.
"This is now the fourth memorandum of understanding (MOU) that our nations have adopted, going back to 2010, to deepen our strategic partnership," US Secretary of State Antony Blinken said following the signing last Friday (September 16).
"It will not only cover the longest period but will also provide more assistance than any prior MOU," he said.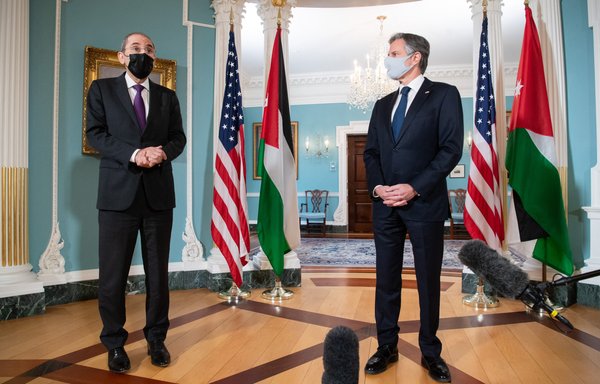 In a statement, the US State Department said the MOU "represents a major commitment to Jordan's stability and the durability of the strategic partnership".
"The US commitment to Jordan's security and prosperity is ironclad," it added.
The agreement will address the extraordinary challenges Jordan faces, amid the heavy impact of regional challenges and as it pursues economic reforms, it said, and "ensures the long-term strength of the close partnership".
"The United States is committed to helping Jordan further develop its economy and strengthen its resilience," including on issues such as the severe water scarcity the kingdom is facing, the statement said.
"Our partnership will also foster co-operation and investment in infrastructure, energy, water, food security and climate, facilitating much-needed regional integration," it added.
Strong and enduring ties
The agreement "reflects a shared interest in a more stable, safe and prosperous Middle East, and our commitment to deepen the partnership between our governments and between our peoples to help achieve that goal," Blinken said.
"The MOU is also an investment in Jordan's exceptional leadership on regional and global challenges," he said, such as by offering refuge and "extraordinary compassion" to people displaced by regional conflicts, including the war in Syria.
"Hosting such a large number of refugees has demanded a lot from Jordan, particularly as the country emerges from COVID-19," Blinken said.
The kingdom continues to play a key role in promoting regional security and stability, he added, noting that the "unprecedented level of foreign military financing" will support the modernisation of Jordan's military.
"Jordan's armed forces have long been a key ally in the fight against violent extremist ideology and terrorism, including as a member of the global coalition to defeat the 'Islamic State of Iraq and Syria' (ISIS)," he said.
Additionally, he said, Jordanian forces are "stepping up to counter new threats like combating narcotics trafficking across the country's northern border".
Jordanian Foreign Minister Ayman Safadi said the kingdom is "grateful for the unwavering support" the United States has continued to provide Jordan.
He described the agreement as "unprecedented in terms of its duration and the size of financial assistance it entails", saying it reflects the strength of the countries' relationship.
"In efforts to find [a] political solution to tragic crises in Syria, Yemen, Libya, or ensuring the enduring defeat of terrorism, the leading role of the United States is essential," Safadi said. "It is simply irreplaceable."
"These are difficult challenges, and we know we cannot overcome them unless we work together," he said, adding that "Jordan will continue to do its part".
"Our partnership is strong, it is enduring, it is strategic," he said. "It is a partnership that continues to do a lot of good not only for our two countries but also for the region and for global peace."
Welcoming Syrian refugees
Jordan has displayed "remarkable generosity and remarkable leadership" by welcoming so many Syrian refugees into the kingdom, Blinken said.
Since the start of the Syrian conflict, he said, the United States has provided about $15.5 billion in humanitarian assistance to the Syrian people, including refugees, with more than $2 billion of that going to Jordan to support its work.
"This year alone we announced more than $1.5 billion, including more than $750 million this week, to help Syrians, including those who are in Jordan," he said.
The United States "has gone above and beyond in terms of helping us cope with the challenge of refugees", Safadi said, describing the Syrian refugee crisis as "a global responsibility" and "global challenge".
"All of us need to come together to ensure that refugees get the dignified lives that that they deserve," he said.
A full 50% of the 1.3 million Syrians in Jordan are under the age of 15, Safadi said, and "they need schools, they need universities, they need jobs".
"We must do everything we can to provide those refugees with the lives they deserve," he said -- hope, education, work and a shot at decent lives.
With this, he added, "they'll be the force that will be able to build their countries in the future. But if we abandon them to hate and despair and ignorance, then we're all looking at a very gloomy future for them and for the region".