WASHINGTON -- With one of the largest airlifts in history under way in Afghanistan, US allies in the Middle East have been actively supporting the evacuation efforts.
Tens of thousands have been safely flown out of Kabul since August 14.
These include US citizens and their families, citizens of allied and partner nations, Afghans who have partnered with the United States over the last 20 years, and other Afghans at risk.
"This is one of the largest airlifts in history, a massive military, diplomatic, security, and humanitarian undertaking," US Secretary of State Antony Blinken said Wednesday (August 25).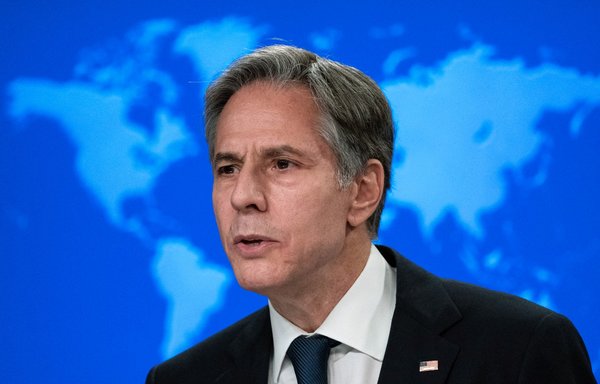 "It's a testament both to US leadership and to the strength of our alliances and partnerships," he added. "We'll be relying and building upon that strength moving forward as we work with our allies and partners to forge a unified diplomatic approach to Afghanistan."
At Tuesday's G7 leaders' meeting, President Joe Biden underscored that point, Blinken said, "and it's one that I and other senior members of the State Department have made in our constant communication with allies and partners in recent days to ensure that we're aligned and united as we move forward".
This pertains not only to the immediate mission, he said, but also to "what happens after August 31 on counter-terrorism, on humanitarian assistance, on our expectations of a future Afghan government".
"That intense diplomatic work is ongoing as we speak, and it will continue in the days and weeks ahead," Blinken said.
He stressed that the United States will work "hand in hand with the international community, first and foremost to ensure that those who want to leave Afghanistan after the 31st are able to do so".
The United States has set August 31 as a deadline to withdraw troops from Afghanistan.
Gratitude to US global partners
To date, Blinken said, 114 countries have made clear to the Taliban "the international expectation is that people will continue to be able to leave the country after the military evacuation effort ends".
In a Friday statement, he offered special thanks to US partners around the globe who have been instrumental in the airlift operation.
Bahrain, Kuwait, Qatar and the United Arab Emirates (UAE) are among the countries that have been or soon will be transiting US citizens and others through their territories to safety, he said.
On Monday, Jordan agreed to the transit of 2,500 Afghan citizens through its territory on their way to the United States, the Jordan Times reported.
Others on the transit list include Denmark, France, Germany, Italy, Kazakhstan, Tajikistan, Turkey, Ukraine, the United Kingdom and Uzbekistan.
Qatar also is among the countries that have "made generous offers regarding the relocation efforts for at-risk Afghans", Blinken said, along with Albania, Canada, Colombia, Costa Rica, Chile, Kosovo, North Macedonia, Mexico, Poland, Rwanda and Uganda.
"We deeply appreciate the support they have offered, and are proud to partner with them in our shared support of the Afghan people," he said. "We are encouraged by other countries that are also considering providing support."
'Strong and enduring' partnerships
Blinken on Friday thanked the UAE and Bahrain for their humanitarian efforts and "gracious offer to facilitate the safe transit of US citizens, embassy personnel, and foreign nationals evacuated from Kabul to third countries".
This support "is emblematic of our strong and enduring partnership", he said.
Also Friday Blinken spoke with Qatari Deputy Prime Minister and Foreign Minister Mohammed bin Abdulrahman Al-Thani about the latest developments in Afghanistan, thanking him for Qatar's assistance.
He commended Qatar for its strong partnership with the United States to promote regional security. More than 7,000 people have been reportedly evacuated from Afghanistan to Qatar, according to AFP.
Earlier last week Blinken also discussed Afghanistan with Saudi Foreign Minister Faisal bin Farhan Al Saud, and with Kuwaiti Foreign Minister Sheikh Ahmed Nasser Al-Mohammed Al-Sabah.
He expressed gratitude to the government of Kuwait "for helping to facilitate the transit of US citizens and Kabul Embassy personnel through Kuwait and underscored the importance of our enduring bilateral partnership".