SOUTHWEST ASIA -- US Air Force F-15E Strike Eagles last week flew from Greece to the Middle East as part of an effort to exercise cross-combatant command operations outside their usual area of responsibility (AOR).
Two US F-15Es originating out of Souda Bay, Greece, and assigned to the 48th Fighter Wing out of Royal Air Force Base Lakenheath, United Kingdom, on Friday (July 15) arrived in the US Central Command (CENTCOM) AOR, CENTCOM said in a statement.
Its AOR extends from Egypt to Kazakhstan, sweeping across the Middle East, Southwest Asia and Central Asia.
The 48th Fighter Wing is a part of US Air Forces in Europe-Air Forces Africa (USAFE-AFAFRICA), which is itself a component command of US European Command (EUCOM).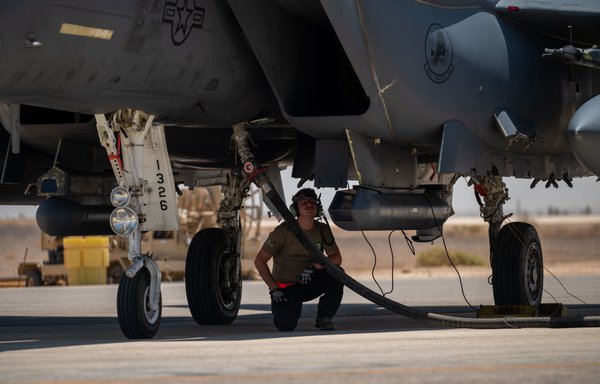 In addition to conducting the cross-combatant command flight, the fighters executed hot-pit refuelling operations with US Air Forces Central (AFCENT) support and then returned to the USAFE AOR for a combat search and rescue exercise with European partners.
Hot-pit refuelling, in which jets are refuelled while still running, cuts refuelling time by hours, enabling AFCENT and partner air crews to generate multiple consecutive sorties from the same aircraft, the statement noted.
Such techniques "enable AFCENT's exercise of Agile Combat Employment (ACE), increasing flexibility in airpower asset basing and staging in and around theater", it added.
ACE refers to an operational concept in which the Air Force rapidly deploys to an area and conducts dispersed, sustained operations using networks of well-established and austere air bases, pre-positioned equipment and airlift.
"This collaboration with USAFE-AFAFRICA showcases US ability to flow airpower in and out of the Middle East from anywhere in the world," said Lt. Gen. Greg Guillot, Ninth Air Force commander, according to the statement.
"The agility demonstrated in this movement is crucial as we continue to provide regional partners airpower options for deterrence and contingency response."
"AFCENT conducts elements of ACE operations in combat every day," said Guillot.
"By executing ACE in a wartime environment, we gain valuable lessons that improve our combat capability," he said. "The AFCENT lessons also benefit the air components from other combatant commands, just as we benefit from the lessons gained during ACE operations in their theatres."
The cross-command flight marked another milestone in AFCENT's and the US Air Force's continued development of ACE, the statement said.
Bomber patrols
Bomber presence patrols, which often originate in Europe and flow through the Mediterranean and into the Middle East, frequently exercise the command-and-control relationship between USAFE-AFAFRICA and AFCENT, the statement added.
The US Air Force conducted one such presence patrol mission over the eastern Mediterranean, Arabian Peninsula and Red Sea on June 8, linking up in some places with regional and international coalition partners, military officials said.
Two US Air Force B-52 Stratofortresses, two KC-10 Extenders and three KC-135 Stratotankers took part in the patrol, AFCENT said in a statement.
The Stratofortress is a long-range, heavy bomber that can perform a variety of missions, including strategic attack, close-air support, air interdiction, offensive counter-air and maritime operations, according to the US Air Force.
The bomber can fly at high subsonic speeds at altitudes reaching 15,240 metres, has a combat range in excess of 14,100km, and can carry precision guided ordnance with worldwide precision navigation.
As part of the US military's effort to counter threats emanating from Iran and other countries, the US Air Force has conducted temporary long-range bomber deployments to the region since 2015.
This was the third "presence patrol" mission of 2022, with earlier missions traversing the region on March 29 and February 14.
AFCENT facilitated six bomber task force missions throughout 2021 as a demonstration of what it said is the international coalition's commitment to promoting regional stability.
Of those, four involved B-52 bombers.