The US Air Force conducted a "presence patrol" mission over the eastern Mediterranean, Arabian Peninsula and Red Sea on June 8, linking up in some places with regional and international coalition partners, military officials said.
Two US Air Force B-52 Stratofortresses, two KC-10 Extenders and three KC-135s Stratotankers took part in the patrol, US Air Forces Central (AFCENT) said in a statement.
The Stratofortress is a long-range, heavy bomber that can perform a variety of missions, including strategic attack, close-air support, air interdiction, offensive counter-air and maritime operations, according to the US Air Force.
The bomber can fly at high subsonic speeds at altitudes reaching 15,240 metres, has a combat range in excess of 14,100km, and can carry precision guided ordnance with worldwide precision navigation.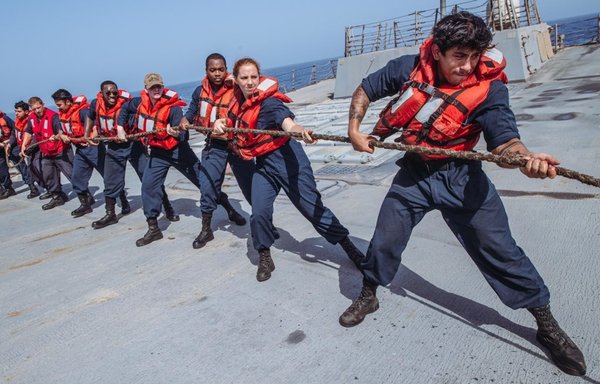 Patrols like the one on June 8 "show the United States' continued commitment and interoperability with our partners in the region", said Lt. Gen. Greg Guillot, 9th Air Force commander.
"These highly co-ordinated efforts demonstrate our combined ability to provide global reach and joint security to the region," he said.
The patrol was significant due to the number of joint and regional partners participating and the long duration of the mission, AFCENT said, noting that it demonstrates US capabilities to rapidly respond to threats worldwide.
The nine-hour patrol flew over the Red Sea, linking up with partner nations along the flight path before departing the region, AFCENT said.
As part of the US military's effort to counter threats emanating from Iran and other countries, the US Air Force has conducted temporary long-range bomber deployments to the region since 2015.
This was the third "presence patrol" mission of 2022, with earlier missions traversing the region on March 29 and February 14.
AFCENT facilitated six bomber task force missions throughout 2021 as a demonstration of what it said is the international coalition's commitment to promoting regional stability.
Of those, four involved B-52 bombers.
Iron Defender
Naval forces from the United Arab Emirates (UAE) and United States on Monday (June 13) began a 10-day maritime exercise in the Arabian Gulf.
The "Iron Defender" drill, an annual bilateral training between US Naval Forces Central Command (NAVCENT) and Emirati forces, focuses on maritime security operations, mine countermeasures and harbour defence, NAVCENT said.
"The UAE is a longstanding strategic partner," said Vice Adm. Brad Cooper, commander of NAVCENT, the US Navy's 5th Fleet and the Combined Maritime Forces (CMF).
"This is an excellent opportunity to deepen bilateral ties and train with our highly capable Emirati partners," Cooper said. "We are stronger when we work together."
More than 600 US military personnel from the Navy, Marine Corps and Coast Guard are participating in the exercise.
US Navy ships USS Momsen, USS Lewis B. Puller and USNS Catawba are participating at sea with US Coast Guard cutters USCGC Robert Goldman and USCGC Baranof.
NAVCENT is headquartered in Manama, Bahrain and includes US forces operating in the Arabian Gulf, Gulf of Oman, Red Sea, parts of the Indian Ocean and three critical choke points at the Strait of Hormuz, Suez Canal and Bab al-Mandeb.