Over the past three years, a project funded by the US Agency for International Development (USAID) has been working with partner organisations in Iraq to reconstruct areas devastated by terrorism and restore livelihoods.
The "Islamic State of Iraq and Syria" (ISIS) killed and displaced thousands of civilians when it overran swathes of Iraq in 2014, leaving behind a trail of destruction and a shattered economy after it was ousted in 2017.
The USAID/Iraqi Community Resilience Initiative (ICRI-Taafi) was launched in late 2018 to restore life to cities liberated from ISIS.
Since then, the initiative has provided job opportunities and has helped with the reconstruction of basic services and the organisation of activities and events that build peaceful co-operation among the various social sectors.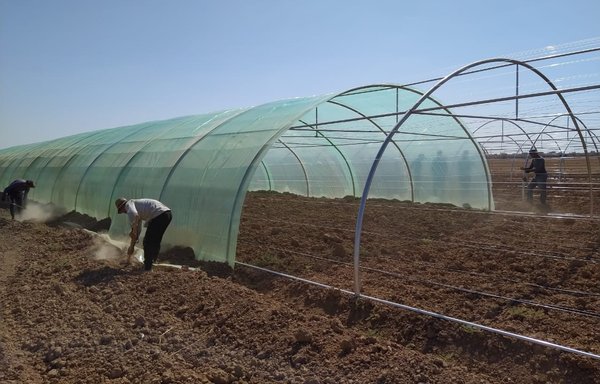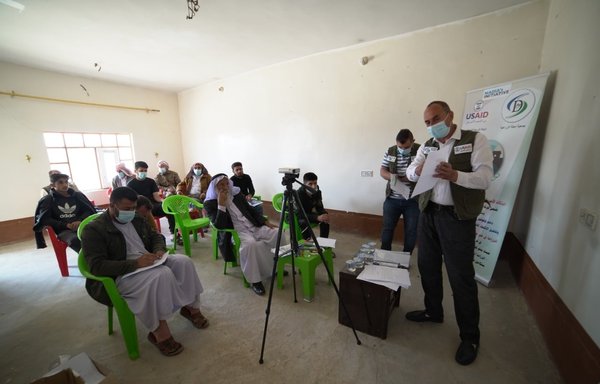 The initiative, in co-operation with 177 local partners, has completed 387 activities and development projects to date that are focused on supporting marginalised people who lost their livelihoods during the battles to oust ISIS.
As part of the project's second phase, launched in early 2022, 34 activities are being implemented in co-operation with 28 Iraqi organisations.
Recent activities include equipping five factories in the town of Bashiqa near Mosul with specialised equipment to increase their production of sesame oil -- one of Ninawa province's principal local industries -- after they suffered destruction under ISIS rule.
The Taafi initiative has also provided the municipalities of Mosul, Sinjar, al-Qayrawan, Wana and al-Rummana with 23 trash trucks showing drawings that aim to raise awareness about the importance of preserving public spaces.
'Plant them in all four seasons'
Past projects include "Plant Them All Four Seasons", which created job opportunities and additional revenue for farmers from the Mosul area.
This was "one of the key projects funded and supervised by USAID over the past year through the Taafi programme", Dijla Agricultural Association programme director Mohammed al-Jammal told Al-Mashareq.
As one of the strategic partners implementing the initiative, the association has been obtaining official approvals, selecting and training beneficiaries, and following up on their work.
As part of the project, farmers are equipped with greenhouses to enable them to grow vegetables and other produce throughout the year, and not just in certain seasons, al-Jamal explained.
The equipment and services provided to farmers "also include fertilisers, seeds, modern irrigation networks and cultivation equipment", he said, and help is provided to drill wells and install solar panels to provide electric power.
The initiative targeted Mosul-area farmers displaced by ISIS who were returning to their fields after their land and agricultural equipment were destroyed by the group, al-Jamal said.
Farmers took part in a 10-day practical and theoretical training course that taught them how to keep their projects going, increase agricultural production and implement marketing operations.
The association continues to follow up on the completed projects on a weekly basis to ensure their continuing success, al-Jamal said.
"The Taafi programme has contributed to increasing the returns of farmers who now work year round and sell their crops during the off-seasons and reap profits as a result of that," he said.
Positive social impact
The partnership with the Taafi programme "has achieved satisfactory results", Dijla Agricultural Association agricultural adviser Ali Yaarub said.
The programme "has had a positive impact in terms of motivating the population to overcome the effects of terrorism and build peace in their areas", he said.
"As part of the agricultural projects, 30 greenhouses were built for farmers in the areas of al-Rashidiya, Hawi al-Jawsaq and al-Furqan in the city of Mosul, and a similar number on the outskirts of the town of Sinjar," he said.
That achievement comes on top of the provision of irrigation systems, diesel-powered electric generators, solar panels and various pieces of equipment to help more farmers reclaim their lands, increase production and rehabilitate dozens of wells, he said.
Well water is used in crop irrigation and in animal husbandry.
Yaarub said Taafi projects also included "supporting ethnically diverse agricultural communities in the Ninawa Plains region to enhance trust and societal integration among all ethnic components".
Among them is a project implemented in partnership with the Association for the Protection of Kaka'i Rights to provide support and educational courses on modern farming and irrigation methods, he said.
The Taafi programme and other local partners are taking part in joint efforts to revive the agricultural economy and services and consolidate stability in other towns liberated from ISIS.
These include providing male and female farmers and livestock breeders in the western Anbar towns of Anah, Haditha and al-Rutba, with fruit tree cuttings, home farming equipment and drip irrigation systems, he said.
"The number of beneficiaries has reached 260 farmers, and we intend to target more than 800 farmers," he said.
The Taafi programme also supported 139 female farmers in the Anbar town of al-Rummana with greenhouses to enhance the role of Iraqi women in serving their community and increase agricultural production.