BEIRUT -- Hizbullah and its backer Iran made a serious mistake by assassinating political activist Lokman Slim, even though investigations remain stalled and justice has yet to be served, Lebanese politicians and journalists said.
The assassination and related events have fueled growing opposition to the Iranian axis, even in areas where Hizbullah wields influence such as al-Adousiya in southern Lebanon, where Slim was shot to death on February 4.
In the aftermath of the assassination, protesters have been calling for the full implementation of United Nations (UN) Security Council Resolution 1559 and have stressed the need to liberate Lebanon from Iran's clutches and restore Lebanese sovereignty.
Slim, a leading secular voice in the Shia community and an outspoken critic of Hizbullah, was found dead in his car near the southern town of Tefahta.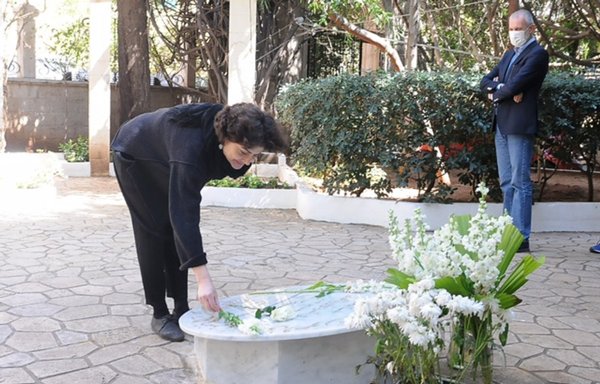 He had suffered five gunshot wounds, four to the head and one to the back.
Before he was killed, Slim had received a series of threats related to his opposition to and criticism of Hizbullah and Iran.
Restoring Lebanese sovereignty
Like others before him, Slim "was the victim of a cowardly assassination, and we accused Hizbullah of assassinating him", said Fares Soueid, co-ordinator of the anti-Iran Saidet el-Jabal Gathering and the National Initiative Movement.
Slim's killing "solidified the conviction of the Lebanese that the country is occupied, and that any figure who opposes the occupation by Hizbullah and Iran will meet the same fate", he said.
Even if Hizbullah denies responsibility for Slim's assassination, Soueid added, that does not change the fact that the crime scene is situated in the area where it wields influence and that the slaying's motives are linked to Slim's criticism of Hizbullah.
"In any case, the party's actions will not deter us from continuing our struggle" to restore Lebanon's sovereignty and liberate it from Iran's stranglehold, he said.
The struggle will continue "because we know what we want for Lebanon and what Iran wants from it, after having turned it into a post office box that it uses to send its messages to the world", Soueid added.
"We want the law and the constitution and the implementation of UN resolutions, including 1559, 1860 and 1701, to curb Hizbullah's weapons, restore Lebanon's relations and return it to the bosom of international legitimacy," he said.
UN Resolution 1559 in particular "irks Hizbullah and puts pressure on it, because it endorses Lebanon's liberation from Iran", he added, noting that opposition to the Iranian axis in Lebanon "is growing".
Iran's self-described "Axis of Resistance" has been used over the years to refer to an alliance between Tehran and its affiliates, including Kataib Hizbullah and Asaib Ahl al-Haq in Iraq, Hizbullah in Lebanon and the Houthis in Yemen.
Such proxies are working on several fronts to impose the Islamic Republic's hegemony and expansionist policies in the region. In return, Tehran provides its "axis" partners with all the money, weapons and support they need.
Threatening free expression
Slim's assassination highlights the lack of security in Lebanon and the lack of respect for freedom of opinion and expression, according to Lebanese Centre for Research and Consulting director Hassan Qutb.
Slim's assassination is akin to the killings of journalists and activists by Iran-backed militias in Iraq, he said, most notably the killing of Iraqi academic Hisham al-Hashemi, who exposed the Iraqi and regional media cell run by the Islamic Revolutionary Guard Corps (IRGC) from Baghdad.
The investigation into Slim's killing "has not and will not reach a conclusion, as there is no new information indicating progress has been made toward uncovering the crime and its secrets", Qutb said.
"His murder is part of an effort to silence all those who call loudly for the implementation of Resolution 1559 and the disarmament of armed militias," he said.
Meanwhile, he added, "the crime itself underscores the necessity of implementing the resolution to protect citizens and the freedoms of opinion, expression, and political action in Lebanon and the region".
"The Iranian project can be countered only with a national project that brings everyone together under the roof of citizenship, commitment to the constitution and Arab and international legitimacy," he said.
The investigation into Slim's assassination has stalled "despite the clear, recorded and documented threats" he received since 2019 and reported to the security services, independent journalist Sawsan Abu Zahr said.
"Dissenting voices within the Shia environment must be monitored, because although they are few, they do exist," Abu Zahr said.
"Their discontent centres on economic and living conditions, but it is possible that the discontent with Hizbullah could broaden," she added, pointing to "a nucleus of opposition to the party" that may well blossom.