Iraqi forces are readying to take any necessary action to prevent rogue actors -- including Iran-aligned militias such as Kataib Hizbullah -- from attacking Iraqi military bases, undermining the country's sovereignty and interfering in the upcoming election.
After years fighting the "Islamic State of Iraq and Syria" (ISIS), Iraqi forces "are strong enough to confront any party that does not abide by the law and endangers the safety of the Iraqi people and the country", a military source said.
Large-scale security activity is under way that is "aimed at restricting the movements of elements responsible for threatening security", the source told Al-Mashareq, requesting that his name not be used.
"We previously have been able to arrest a number of individuals who had launched rockets at symbols of sovereignty, bring them to justice, and thwart many attacks thanks to pre-emptive intelligence work," the military source said.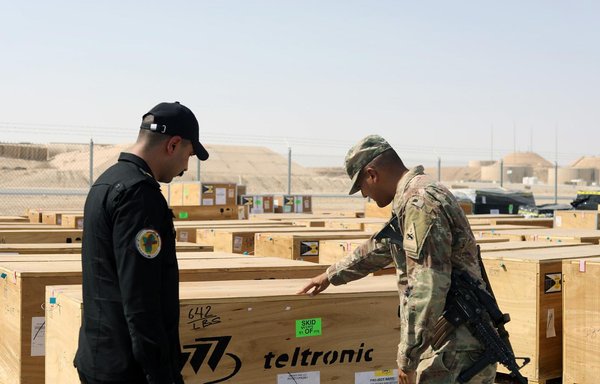 There also have been security operations in several provinces to combat uncontrolled weapons, limit arms bearing to official forces, and arrest individuals who have carried out assassinations of civilian activists, he said.
Iraqi forces developed strong combat and intelligence skills thanks to the training they received and experiences they went through during the battle to oust ISIS, the source noted.
They "will not fail to carry out their duties to protect the country from dangers, and will continue to hunt down the instigators of violence and chaos who want to harm Iraq's image in the international community's eyes and to distort the victories they have achieved over the terrorist groups", he said.
"We have a clear message for them: whoever tries to harm our national interests and challenge the state, or imagine that they are above the law, will be met only by deterrence and punishment from us," he said.
The militia threat
At present, Iran-aligned militias are considered the biggest threat to Iraq's security, said political analyst Abdel Karim al-Wazzan.
These include well-known Iranian proxies -- primarily Kataib Hizbullah, Harakat al-Nujaba and Asaib Ahl al-Haq -- as well as lesser known "smokescreen" groups operating at their behest.
The threat these groups present is increasing as they continue to carry out attacks that threaten Iraq's national security, violate its sovereignty and its laws and endanger civilians, while building up an arsenal of Iranian weapons, he said.
Al-Wazzan said it is possible the Iraqi army will conduct pre-emptive operations in the lead-up to Iraq's parliamentary elections, slated to take place October 10, in order to curb any attempt by rogue actors to influence the electoral process.
Kataib Hizbullah and other Iran-aligned militias might try "to interfere in the elections to gain political weight", said political analyst Ghanem al-Abed.
They might resort to election disruption as they have lost popular support in Iraq, he said, because of their targeting of protesters and activists, involvement in corruption and attacks on Iraqi and international military and civilian targets.
Al-Abed noted that Islamic Revolutionary Guard Corps Quds Force (IRGC-QF) commander Esmail Qaani secretly visited Iraq on July 27, reportedly meeting with militia leaders to discuss the upcoming elections.
Qaani also visited Baghdad on June 9, where he reportedly focused on shoring up electoral alliances among the various pro-Iran political forces in Iraq.
Kataib Hizbullah and other militias are working at the behest of the Iranian regime to spread chaos in Iraq, al-Abed said, noting that these groups "can survive only in a turbulent, chaotic environment".
They are no longer just a threat to the security of Iraqi citizens but also a threat to Iraq's political system, rule of law and sovereignty, he added.
Defensive strikes
The United States recently demonstrated that it would not hesitate to defend itself against Iran's proxies, launching June 27 air strikes on operational and weapons storage facilities used by Iran-backed militias in the Iraq-Syria border region.
The strikes were carried out in response to rocket and drone attacks launched by these militias against civilian targets and Iraqi bases that house US and international coalition forces advisors.
The targets had been selected as they were used by "Iran-backed militias that are engaged in unmanned aerial vehicle (UAV) attacks against US personnel and facilities in Iraq", Pentagon spokesman John Kirby said at the time.
Kataib Hizbullah and Sayyed al-Shuhada were among the "several Iran-backed militia groups" that had used the facilities, Kirby said.
US fighter jets on February 25 bombed ammunition depots and bases of Iranian proxies, particularly Kataib Hizbullah, in the Iraq-Syria border area, also in response to attacks against US and coalition personnel in Iraq.
The United States does not appear to intend to escalate or complicate the current situation in Iran, said al-Wazzan.
"But it may ultimately find itself forced to respond militarily and forcefully to the attacks by Kataib Hizbullah and other IRGC militias to defend its soldiers, US nationals and international partners," he added.