BAGHDAD -- Iraqi police arrested a senior official in an Iran-backed armed group Wednesday (May 26) on suspicion of orchestrating the murder of a prominent activist, a security source said.
Qasem Muslah is the first high-ranking paramilitary official to have been arrested in relation to a wave of murders of activists and journalists that started when anti-corruption and anti-Iran protests broke out in 2019.
Activists have repeatedly blamed Iran-linked armed groups for the killings. They say the perpetrators are known to security forces, but have not been arrested out of fear of Iran, despite government pledges to act.
A spokesman and other paramilitary sources said Wednesday evening that Muslah had been released, but the government has yet to confirm the move.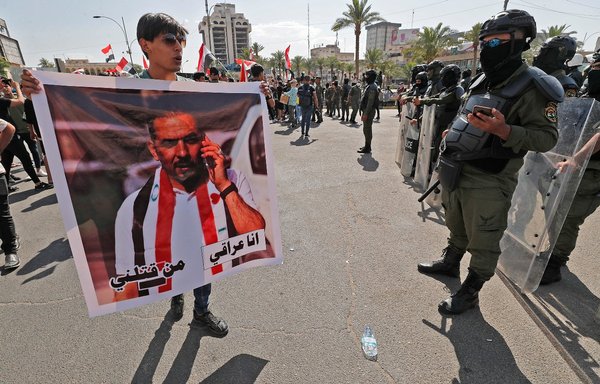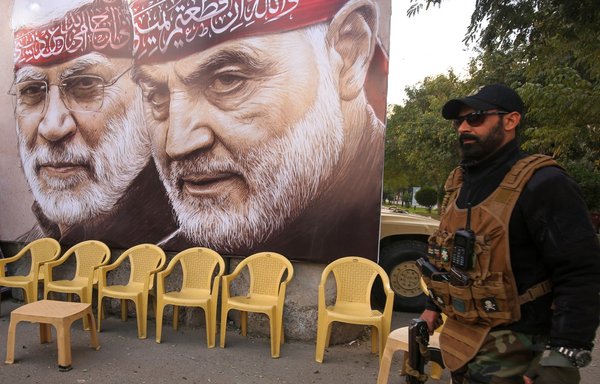 Police intelligence arrested Muslah, paramilitary operations chief for Anbar province, at dawn in Baghdad, the security source said.
Muslah "gave the order to kill Ihab al-Wazni on May 9 and another activist Fahim al-Taie in December 2019", the source said.
Al-Taie was killed in Karbala, where pro-Tehran armed groups hold major sway, as he was returning from the protests.
Video footage posted online showed him getting off a motorcycle in front of the Ansar Hotel in al-Baroudi, when another motorcycle pulled up behind it. A gunman riding on the back of the motorcycle shot him, before pulling away.
Sources said al-Taie had accused unspecified parties before his death of being involved in attempts to assassinate Iraqi activists.
Al-Wazni, who had been driving the motorcycle, had narrowly escaped death. But he was shot dead May 9 outside his home in Karbala by men on motorcycles using a gun equipped with a silencer.
He had for many years criticised Iraqi armed groups and Iran's influence in the country, leading protests in Karbala.
Al-Wazni's family have publicly accused Muslah of killing him, and his mother has filed a lawsuit against him, Middle East Eye (MEE) reported.
"We are sure that he was the mastermind of my brother's assassination," Marwan al-Wazni told MEE.
"He may be released due to local and regional pressures, and his group may work to destabilise the security situation," he said. "But we have received a promise from the Supreme Judicial Council that the investigation into the murder of Ihab will be professional and will not be subject to any local or regional political pressures or interference."
Iran-aligned paramilitary commander
Iraq's Security Media Cell said Muslah had been arrested on terrorism charges and that an investigation is under way into the criminal charges against him, the Iraqi News Agency reported.
Muslah once commanded Liwa Ali al-Akbar, one of the four al-Atabat al-Muqadasa paramilitary groups associated with top Iraqi cleric Ali al-Sistani.
Initially formed to fight the "Islamic State of Iraq and Syria" (ISIS), many Iraqis feel paramilitary groups have outlived their purpose, with some now threatening the legitimacy of the state and its official institutions.
Last May, al-Sistani decided to integrate the four paramilitary groups associated with him, whose fighters hail from Najaf and Karbala, into the Iraqi army.
But Muslah had long since broken from the group, MEE reported.
Three years ago, he was recruited by top paramilitary leader Abu Mahdi al-Muhandis, who was killed near Baghdad airport last January alongside top Iranian general Qassem Soleimani in a US airstrike.
He subsequently formed an Iran-backed militia, al-Tufuf Brigade, and later became the commander of Anbar's paramilitary operations.
Anbar authorities recently discovered a mass grave near Fallujah that contains the remains of "dozens" of civilians whom Iran-backed Iraqi militias in the area apparently executed at point blank range, officials said last week.
'Nobody is above the law'
The arrest is expected to raise tensions, as it creates friction between the Iraqi military and the paramilitary groups, especially those that are aligned with Iran.
Directly after Muslah's arrest, Iraqi forces barred entry to the Green Zone in central Baghdad, where many embassies and ministries are located.
Paramilitary leaders quickly issued a statement vowing Muslah "would be released in the coming hours", and witnesses said they deployed armed men and armoured vehicles to the July 14 bridge that leads to the Green Zone.
The United Nations's top representative in Iraq, Jeanine Hennis-Plasschaert, blasted the move on Twitter.
"Any arrest case should run its course, as goes for any Iraqi. And surely, nobody should resort to a show of force to get their way," she said.
"Such behaviour weakens the Iraqi state and further erodes public trust. State institutions must be respected at all times. Nobody is above the law."
Several thousand people protested in Baghdad and Basra on Tuesday to demand justice over the deadly attacks on activists and journalists.
Two protesters were shot dead during the rallies.