While Kataib Hizbullah is known for having a cozy relationship with the Islamic Revolutionary Guard Corps (IRGC), it is not on good terms with the Iraqi people, who recently demonstrated at the polls that they are fed up with its actions.
The militia leaders' election loss is just one sign that Kataib Hizbullah does not have the support of the Iraqi street, observers said, due in large part to its long history of abuse and its ongoing violation of Iraqi law.
Kataib Hizbullah's destabilising behaviour is pulling Iraq down, they said, pointing to the domestic disruption it causes and its threats to the region.
The militia was behind a failed February drone attack on the United Arab Emirates (UAE), one of several to threaten the security of the Gulf region, and last year launched a similar attack on Saudi Arabia's capital, Riyadh.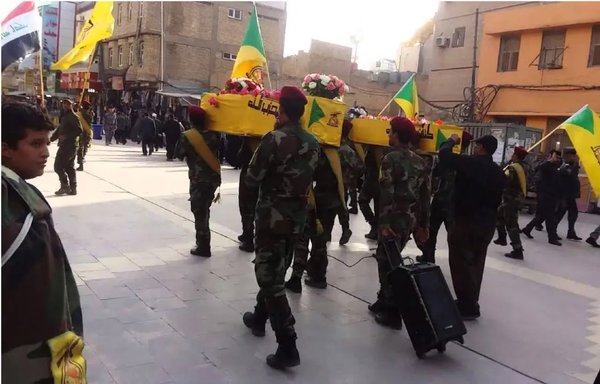 It is known to carry out high-profile attacks via front groups such as Alwiyat al-Waad al-Haq, which claimed attacks on Saudi Arabia and the UAE.
Funneling funds to the Houthis
In February, Kataib Hizbullah collected hundreds of thousands of dollars in donations from its supporters on false pretexts to help the Houthis build up their arsenal of weapons and drones.
In soliciting funds from supporters, for example, the militia claimed that Riyadh and Abu Dhabi support the "Islamic State of Iraq and Syria" (ISIS) and interfere in Iraqi affairs -- an assertion roundly dismissed as a bald-faced lie.
These false claims "no longer fool the people", Iraqi citizen Firas Ahmed told Al-Mashareq. "The truth is that the militia is doing solely what Iran wants."
"It is clear that Iran's agenda is to destroy the region through affiliates who operate at its behest and have a shared goal," he said. "They are known as the axis of resistance, which is an axis to tear countries apart."
It is unfortunate that Kataib Hizbullah is using Iraq as a springboard for attacks on other countries, Ahmed said, adding that the Iraqi people condemn these actions, which are harmful to Iraq's interests and foreign relations.
Kataib Hizbullah also is trying to use Iraq as a corridor through which to funnel Iranian rockets and weapons to Iran's allies in Syria, he said.
The militia tried to polish its image during the war against ISIS, but quickly fell out of favour with the Iraqi people as a result of its actions, he said.
In addition to losing public support, Kataib Hizbullah has lost some prominent members, with leader Hassan Karim (Asef) killed September 6 by an improvised explosive device (IED) that targeted his convoy.
The incident occurred in the town of Jurf al-Sakhr, south of Baghdad, which is under the militia's control.
Six months earlier, the commander of Kataib Hizbullah's special forces battalion, Ammar Abdel Hussein, was killed in a similar attack in the same town.
'More vicious today'
Iraqi citizen Abu Seif accused Kataib Hizbullah of staging rocket attacks on peaceful civilians, terrorising children, infringing on the authority of the state and suppressing the popular protests.
The militia did not learn from the "lesson of the elections" to tone down its actions, he said, but instead escalated them, and threatened the Iraqi people and state leaders, as well as Iraqi sovereignty.
It is accused of targeting the homes of the prime minister and parliament speaker, and of attacking the headquarters of Sunni and Kurdish parties and political figures to disrupt the formation of any Sadrist-led government.
Kataib Hizbullah mobilised its fighters in Anbar province last month, claiming it was doing so "to stop the infiltration of ISIS elements".
But local officials said this is not true.
They said the militia's deployment of force was actually intended to deliver a message to the public and to Sunni leaders allied with Muqtada al-Sadr.
"Kataib Hizbullah today is more vicious, and is trying to exert maximum pressure to protect itself and the rest of Iran's proxies from being politically isolated after losing their popular support," former MP Taha al-Lahibi said.
"The militia has a bad reputation among Iraqis, and no one wants it or any of the other militias to be part of the country's future, as their continued existence means more terrorism and chaos," he said.