Growing evidence that Russia is increasing its reliance on informal military units to solve strategic problems in countries that are of geopolitical interest is causing concern worldwide.
In addition to the Wagner Group -- a private military company (PMC) notoriously involved in wars in eastern Ukraine, Syria, Libya, Sudan, Venezuela, Madagascar and more, and created by close associates of Russian President Vladimir Putin -- the Russian-Ukrainian PMC Vega is coming under the microscope.
Such contractors allow the Russian regime to inflict and suffer casualties, without any of the bloodshed appearing on the Kremlin's books.
In March 2019, the Conflict Intelligence Team (CIT), a group of independent Russian bloggers who use open sources to investigate wars, published data indicating that Vega mercenaries have been operating in Syria since 2018 to support President Bashar al-Assad, just like their counterparts in the Wagner Group.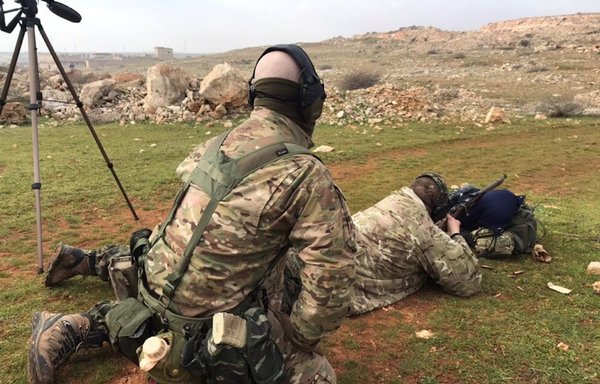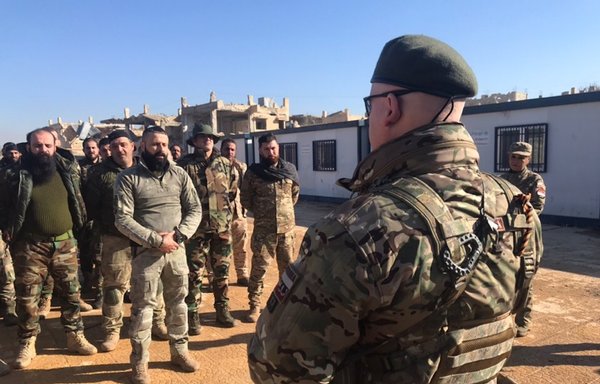 Supporting Liwa al-Quds fighters in Syria
At first, Vega protected private individuals as well as various companies, banks and ships in high-risk areas.
But in recent years, Vega has expanded its security work to include militia training on behalf of Russia.
Vega is training a predominantly Palestinian militia known as Liwa al-Quds (Jerusalem Brigade), the largest unit in Aleppo supporting the Syrian government.
That was what CIT investigators concluded after examining photographs taken by journalist Oleg Blokhin, who reports in Syria for the pro-Kremlin online publications ANNA News and Russkaya Vesna (Russian Spring).
The images show troops wearing Vega Strategic Services patches.
Vega Strategic Services was founded in 2011 in Ukraine by veterans of Russian and Ukrainian special forces, the investigators found. It became Vegacy Strategic Services in 2012 when the company's founder, Ukrainian citizen Anatoly Smolin, moved its headquarters to Cyprus.
Smolin, a veteran of the Soviet navy and KGB and then of Ukrainian Interior Ministry (MVD) forces, told the BBC in March 2019 that he moved to Cyprus because the legislation governing PMCs was favourable.
The head office is situated in Cyprus, with other offices in Ukraine, Russia, Syria, Sri Lanka and Egypt.
Russia "has significantly bolstered its support for Liwa al-Quds" since 2019, Deutsche Welle reported in March 2019, citing Lebanese online publication Al-Modon. The Palestinian group has gained several hundred new members, including minors, the report said.
Reports in January 2019 recognised Russia as the force behind Vega.
Smolin personally participated in the military training of Liwa al-Quds fighters in Syria, according to the CIT. The photographs of the training feature someone who looks like him.
Operating 'in the shadows' in Middle East
Observers in Central Asia see Russian PMCs as a multifaceted threat to their countries' security.
PMCs such as the Wagner Group carry out intelligence and military missions that Moscow cannot do officially, said Edil Osmonbetov of Bishkek, a political scientist and international relations specialist.
"These are not regular armed forces that fall under international law; the states co-ordinating them do not bear responsibility for their actions," he said.
Vega is just one of the PMCs created at the Kremlin's behest, said Dauren Ospanov, a retired Kazakh army major and former officer at the Almaty regional garrison.
He named other PMCs -- Shchit (Shield) and Patriot -- that do not officially exist in Russia but actively recruit young men to perform dangerous missions in the Middle East.
"Unlike the Wagner Group, Vega and other Russian PMCs do not have military equipment, armoured personnel carriers or artillery and have not been seen in combat," Ospanov said. "They are in the shadows, handling security and training fighters, but this could very well be just a shield to hide war crimes."
Recruiting fighters in Central Asia
Russian PMCs are also engaged in destructive activities, not just those "shadowy" tasks, Ospanov said. They hire young men from destitute families, mainly those living in Russia, and offer them high wages to fight in Syria.
"Many of the mercenaries are killed, but no one is held responsible," he said.
Recruitment is also taking place in Central Asian countries.
In August, it became known that the Security Service of Ukraine (SBU) had opened criminal cases against 15 Wagner Group members, including three Kyrgyz, who allegedly fought in eastern Ukraine on the side of pro-Russian separatists.
Two years earlier, Kazakh newspaper Caravan cited the SBU when it reported that Belarusians, Moldovans and Kazakhs were fighting as part of a Russian PMC in Syria.
Russian PMCs are hiring foreigners so that "there are fewer complaints" about Russia, Andrei Buzarov, a political scientist from Kyiv, Ukraine, told Caravan, without specifying the source of the complaints.
Mercenaries also agree to work for PMCs for financial reasons, he said.
Kremlin-backed 'killing machines'
Ospanov is convinced that Vega is closely tied to the Kremlin, since it is training a Russian-backed group.
"There is no need to harbour illusions that Vega is staying out of combat and is complying with international rules on PMCs," he said. "There is no doubt that at a decisive moment, PMCs such as Vega could be mobilised and, in one form or another, be brought into a hybrid war, carrying out the Kremlin's combat missions, as was the case in Ukraine".
The threat of Russia unleashing a hybrid war is also relevant for Central Asia, particularly for Kazakhstan, said Dosym Satpayev of Almaty, a political scientist and director of the Risk Assessment Group.
Internal problems in Kazakhstan are growing, which Moscow may exploit for its own interests, he said.
"The emergence of a foreign PMC in Kazakhstan poses a serious threat to our country, since it is possible that if the political situation changes, it may engage in sabotage," Satpayev said.
Kazakh authorities, in turn, are wary of the very idea of PMCs and do not allow such entities to operate legally in Kazakhstan.
In March 2018, Dariga Nazarbayeva, a senator at the time and the oldest daughter of former president Nursultan Nazarbayev, denounced the idea of creating PMCs in Kazakhstan.
"I do not support this idea. This is literally a private killing machine," she said. "Such organisations shouldn't exist."