Russia-backed mercenaries operating in Syria present a grave threat to the population as they are bound by no laws or regulations and are being used as a tool by the Kremlin to leverage for influence, analysts warn.
There are two types of these mercenaries operating in Syria: militias affiliated with Russian private military companies (PMCs), whose members often hold Russian nationality; and local militias dominated by Syrian nationals who are trained by Russian experts and answer directly to Russian officers.
Russia has a history of using PMCs around the world that operate under the pretext of providing security services in the countries where they are deployed, said military expert Wael Abdul Muttalib, who is retired from the Egyptian army.
"In truth, they are merely mercenary militias acting on the ground on the orders of officers of the Russian military police and Russian army," he told Diyaruna, and as such "pose a real threat to the future of Syria".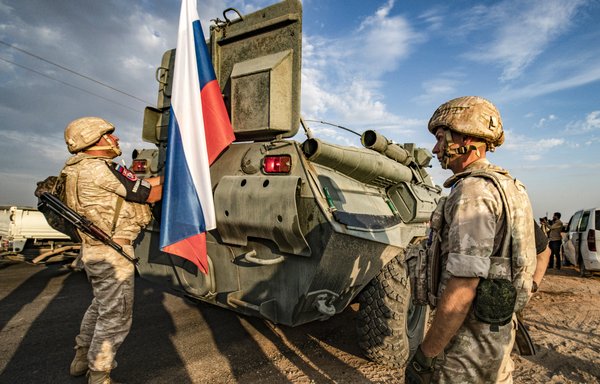 "They lack legal credibility, and are merely a non-governmental Russian tool whose role is to carry out the dirty work on the ground so Russia is not held accountable by the international community", he said.
The Geneva Conventions "criminalise those who recruit mercenaries as well as those who are recruited to work for mercenary groups", Abdul Muttalib said.
The presence of these militias is an "international crime that calls for the punishment of the violators, which would strip these militias of any legal credibility or legitimacy", he added.
Russian 'tool' against allies
The most notorious Russian proxy militia operating in Syria is the Wagner Group, which carries out Russian President Vladimir Putin's agenda worldwide under a cover of plausible deniability.
It is the most numerous and best armed, and is very close to the Russian army, Egyptian security expert and military analyst Abdul Karim Ahmed told Diyaruna.
The Wagner Group was the first PMC to recruit Syrian elements to fight in the ranks of Russian militias, he said.
These fighters are now deployed in Horan, Palmyra, Daraa, Hama, Aleppo, Damascus, Latakia and Tartous -- every area in where Russian forces have a presence, he said.
Wagner mercenaries have been in Syria since 2013 under the cover of having been requested by the Syrian government to secure oil installations and other sensitive sites. The claim was repeated in 2015 in order to keep Moscow's direct intervention from being exposed.
The main Russian militia with a stake in Syria is the so-called "polite people", which debuted as "little green men" -- Russian military personnel in unmarked green uniforms, carrying modern Russian military weapons and equipment -- in Ukraine in 2014.
Other private militias affiliated with PMCs include Vegacy Strategic Services Ltd. and Zaslon, a highly secretive unit of Russia's civilian foreign intelligence service.
These militias and PMCs are merely mercenary groups that are able to carry out actions that violate international laws on warfare conduct, as they are not bound by them because they are not regular army units, Ahmed said.
"The danger posed by the presence of these militias is that they are implementing political agendas that will have a great negative impact on Syria," he said.
Their presence is considered a tool for Russia to leverage against its allies in Syria -- Iran's Islamic Revolutionary Guard Corps (IRGC) or even the Syrian regime itself, he said. This is evidenced by numerous recent clashes between militias affiliated with Russia and the Syrian regime and IRGC-affiliated militias.
The Kremlin's mercenaries "are implementing Russia's policy, aimed at controlling the resources of the Syrian state and strengthening its military presence, through these militias", Ahmed said.
'No credibility'
The Kremlin-backed militias "have no credibility whatsoever with Syrian society", as militia members frequently move from one militia to another for financial incentives or to gain more influence, said Syrian lawyer Bashir al-Bassam.
"Most were formerly members of Syrian opposition groups, then joined the ranks Syrian regime-affiliated militias and later IRGC-affiliated militias," he told Diyaruna.
Some of the recruits are wanted for criminal offences and joined these militias for protection from prosecution and from retaliation for the crimes they have committed, he said.
The most prominent pro-Russian Syrian militias include the Syrian army's 25th Special Mission Forces Division (Nimr Forces) led by Brig. Gen. Suhail al-Hassan, and the 5th Corps, whose ranks have recently swelled with hundreds of elements from the Daraa region, al-Bassam said.
As a next step, he said, Russia is trying to make deep inroads into al-Hasakeh province to recruit youth for a new militia it intends to form.