An audio recording of a pro-Iran Popular Mobilisation Forces (PMF) leader voicing threats against a senior Iraqi army officer that was leaked online last week has sparked widespread anger amongst Iraqis.
During a phone call with Diaa Mohammad, Anbar Operations Command Chief of Staff, Ahmad Nasrallah, the PMF's deputy commander in eastern Anbar, can be heard threatening Anbar Operations Commander Maj. Gen. Nasser al-Ghannam, according to the recording that surfaced online Thursday (December 3rd).
Nasrallah, also known as Hajji Abu Zaid, threatened to "cut off" al-Ghannam's hand if he insisted on taking down billboards featuring Abu Mahdi al-Muhandis, a senior PMF official killed in a US raid in January, or any other PMF figure.
Al-Ghannam had earlier ordered officials to remove all flags, banners and billboards from Anbar's streets and public squares, except for the Iraqi flag.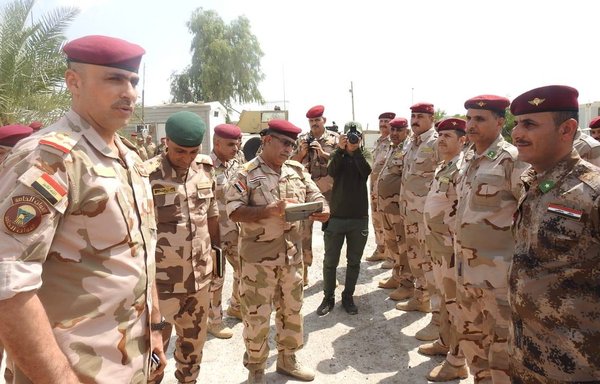 The Iraqi government on Friday opened an investigation into the incident under the orders of Prime Minister Mustafa Kadhemi.
The PMF's Eastern Anbar Operations Command announced it has suspended Nasrallah and referred him for investigation for "insulting an Iraqi officer".
'Provocative attempt'
The recording has met with widespread condemnation by the Iraqi public.
The threat by Nasrallah is a "new provocative attempt" to test the Iraqi forces' patience, said Abu Taha, a Baghdad resident.
It is part of the militias' efforts to undermine the Iraqi military and strip it of its powers, he told Diyaruna. "Such things should not pass without accountability."
Militia leaders "offend the Iraqi army and lash out at its leaders and symbols who represent the law and the state's authority", military expert Jalil Khalaf Shwayel told Diyaruna.
These statements violate the sanctity of the army, which has made and continues to make countless sacrifices to protect the country, he said.
The government is responsible for protecting the army's honour and must take "greater measures" to hold Nasrallah accountable, as he is part of the PMF, which fall under the purview of the state's security forces, said Shwayel.
He urged the government to confront the militias' efforts to weaken the state's structure and its institutions, particularly the military.
He also called for putting an end to their influence and illegal weapon possession that threatens Iraq's security and the safety of its citizens as the country prepares for parliamentary elections slated for next year.
This is not the first time Kataib Hizbullah has attacked an Iraqi military commander. Last year, pro-Iran media outlets -- including the Resistance Media Network and al-Itijah TV, Kataib Hizbullah's media outlet -- accused Anbar Operations Commander Maj. Gen. Mahmoud al-Falahi of treason.