Armed factions affiliated with Iraq's religious authority in Najaf on Thursday (December 3rd) concluded their first co-ordination conference, which sought to contain and isolate militias loyal to Iran.
Officials and military commanders attending the three-day conference, held at al-Abbas shrine in Karbala, discussed organisational and administrative issues related to the factions.
The four Najaf-aligned factions -- Liwa Ansar al-Marja'iyya, Liwa Ali al-Akbar, al-Abbas Combat Division and Imam Ali Combat Division -- reiterated their commitment to safeguarding the authority of the state and its institutions.
They reaffirmed their affiliation with the Iraqi forces and urged the government to finalise the process of their joining the security forces.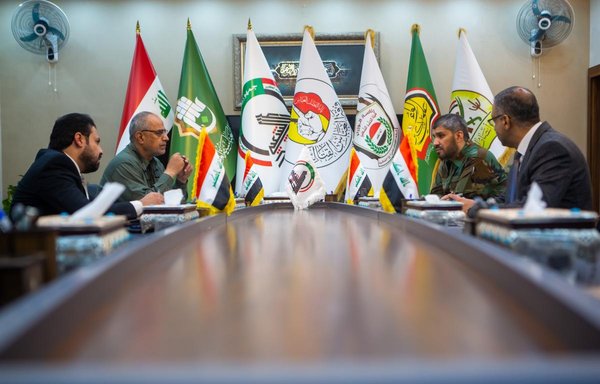 In March, these factions decided to join the Iraqi forces in a move that signaled there had been divisions between them and factions of the Popular Mobilisation Forces (PMF) loyal to Iran, known as the loyalist groups.
The government on April 19th decided to link them administratively and operationally to the armed forces' command, in a move to be finalised at a later date.
The conference carried a clear message that the Marja'iyya (religious authority) factions are on the side of the Iraqi state, political activist and al-Muwatiniyoun party leader Ghaith al-Tamimi told Diyaruna.
This is a new attempt by the Najaf authority to affirm its factions' detachment from the loyalist militias that follow the orders of Iran's Supreme Leader Ali Khamenei, he said.
The conference confirms the Najaf authority has "revoked the legitimacy" of these militias and seeks to contain them and block any of their attempts to use the PMF as a cover for activities that support Iran's agenda, he said.
"The conference also came in response to the many requests by multiple parties to the Supreme Authority to affirm its position rejecting these rogue militias that kill, kidnap and harm the country's security," he added.
Al-Muwatiniyoun has called on the religious authority at Najaf to issue a fatwa against the militias, just as in 2014 it issued a fatwa on collective-duty jihad against the "Islamic State of Iraq and Syria" (ISIS), he added.
Conference participants also recommended that PMF elements be prohibited from engaging in political activity, partisan affiliation or running in any elections, in compliance with the Iraqi law and constitution.
Iran is looking to support its proxies' participation in the June parliamentary elections, as it did in 2018, to give them political cover that would allow them to continue activities that benefit the Iranian regime, al-Tamimi said.