Many Iraqis consider top Shia cleric Ali al-Sistani to be a pillar of stability during a turbulent time, regarding him as a "safety valve" who can restore stability and reinforce the state's authority.
The guidance and advice he offers to the government and political factions support reform and the restoration of balance to the political process, experts say.
Al-Sistani is "an exceptional man in a difficult and exceptional period in the country's history", al-Mustansiriyah University political science lecturer Issam al-Fayli told Diyaruna.
The Grand Ayatollah is a reassuring presence because he is a moderate who embraces all Iraqis, regardless of sectarian or ethnic affiliations, he said.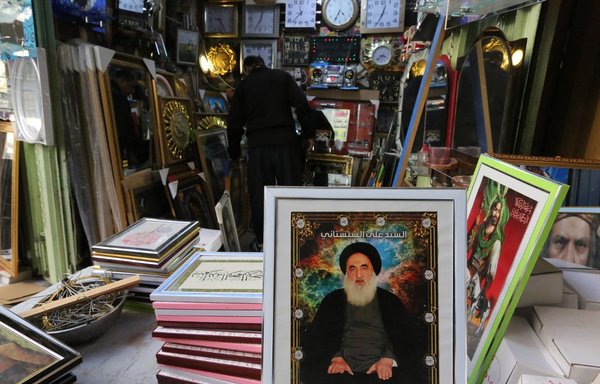 He has insisted that "everyone should live under a state of law and order that protects citizen's rights and allows people to realise their aspirations free from any discrimination", al-Fayli said.
Al-Sistani's positions are informed by a sense of national duty and are generally balanced, characterised by rationality and wisdom, al-Fayli added.
For example, he supported the popular protests that erupted a year ago and backed the protestors in their legitimate demands for reform, al-Fayli said.
He categorically rejects regional and foreign interference in the affairs of Iraq because any interference, as he sees it, will cast a dark shadow over the political process and turn the country into an arena of conflict.
Al-Sistani's vision is based on the "importance of establishing an independent Iraq that manages its own affairs and is not subject to pressures and agendas that undermine its national priorities", al-Fayli said.
Rejection of foreign interference
In many of al-Sistani's speeches and public statements, he has voiced a rejection of foreign interference, stressing that Iraq is "sovereign, independent and capable of self-determination", Iraqi MP Jassim al-Bakhati noted.
He has supported public demands for early and fair elections that contribute to building democracy, stability and creating prosperity, he told Diyaruna.
"The religious authority currently stands with the government in its endeavour to achieve that popular demand after issuance of a new [electoral] law and formation of a new commission to organise the electoral process," he said.
It also supports state efforts to preserve the unity of Iraq against the dangers threatening its social fabric and the security of its citizens, al-Bakhati added.
This was evident when al-Sistani issued a fatwa calling on people to volunteer to fight the "Islamic State of Iraq and Syria" (ISIS) after it invaded one third of the country in 2014, he said.
He stressed al-Sistani's contribution to supporting areas liberated from ISIS, displaced families and victims of violence, providing aid and ensuring they receive assistance.
'Loyalty to the homeland'
Al-Sistani's fatwa to fight ISIS was "a national gesture to support the Iraqi armed forces in confronting terrorism", said Ghazi Faisal Hussain, advisor to the Iraqi Centre for Strategic Studies.
It was not a call to establish armed groups operating outside the framework of the law, he told Diyaruna.
Four of the factions formed in response to this fatwa were affiliated with the religious authority in Najaf: Liwa Ansar al-Marja'iya, Liwa Ali al-Akbar, al-Abbas Combat Division and Imam Ali Combat Division.
In March, these factions decided to join the Iraqi security forces in a move that signaled there had been divisions between them and Popular Mobilisation Forces (PMF) factions loyal to Iran, known as the loyalist groups, Hussain said.
In announcing their decision, he said, the Marja'iya (religious authority) factions had pointed to the domination of Iranian groups over the PMF.
Their decision to join the ranks of the Iraqi forces was essentially a desire to distance themselves from the loyalist factions that openly declared their loyalty to Iran, he said.
In contrast with the loyalist militias, al-Sistani's position is "loyalty to the homeland and defence of its interests", Hussain said.
Even populist Iraqi cleric Muqtada al-Sadr has condemned in recent months the loyalist militias' continued attacks and assassinations in Iraq, and called for the peaceful support of the Iraqi government.
In a September 23rd statement addressed to the PMF, al-Sadr urged them to do more to denounce the actions of "some PMF factions" that only serve to harm Iraq.