Tahrir al-Sham is trading in the lives of civilians who wish to leave Syria's Idlib region by overseeing their smuggling across the border, collecting money from both those trying to escape and the smugglers, local activists said.
The group, an extremist alliance dominated by former members of al-Qaeda linked al-Nusra Front (ANF), earns at least $250,000 per month from its smuggling operations, they said.
Brokers who smuggle civilians into Turkey have become well known in the city of Idlib and surrounding villages and towns, local activist Haisam al-Idlibi told Diyaruna.
These middlemen gather individuals who wish to cross the border and hand them over to another group that moves them to the edges of Idlib province, where it collects money from them. Then one person usually brings the money to Tahrir al-Sham's border office to pay the fee, al-Idlibi said.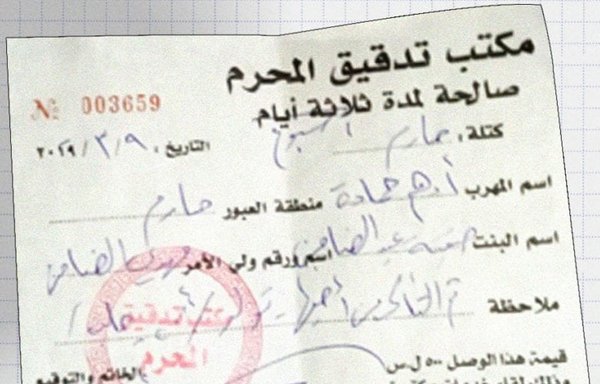 The border office collects "between $50 and $100 in fees per person", he said, noting that the smuggling ring's leader is often a Tahrir al-Sham element or has a close relationship with one of the group's emirs.
"In other words, everything is fully controlled and supervised by Tahrir al-Sham, especially securing the route inside Syrian territory and providing [the smuggled civilians] with accommodation and food in homes near the border until the right time to cross comes," he said.
Tahrir al-Sham set up three fixed checkpoints on the main smuggling routes, namely the al-Dorriyeh, al-Zawf and al-Allani checkpoints, he said.
"Anyone who tries to carry out a smuggling operation without informing Tahrir al-Sham is forced to use a roundabout route that takes six hours to travel, and if he is caught, he is fined $10,000," al-Idlibi said, adding that these smugglers usually abandon the civilians at the border and flee.
Seeking a better life
Mohammed al-Beik, a Syrian activist who resided in Turkey for some time before returning to Syria, said he met many Syrians who were able to flee Idlib and sneak into Turkey.
"Most of them aspire for a better life, and not only settle in Turkey but rather dream of moving on to Europe and obtaining asylum," he told Diyaruna.
Al-Beik said the people he met told him that the smuggling fee ranges between $400 and $1,500 -- not including the fees paid for lodging near the border and for Tahrir al-Sham's border offices.
Smugglers also coerce civilians to pay a higher fee for a "guaranteed" crossing, he said.
Those who were smuggled into Turkey confirmed that Tahrir al-Sham charges an extra fee to every girl or woman who wants to cross on her own, without a mahram (male guardian). The group assigns a man to accompany her as a mahram, al-Beik said.
By multiplying the number of people who wish to flee by the sums they pay to Tahrir al-Sham, al-Beik estimated the group generates more than $250,000 per month from its smuggling operations.
In addition to the fees the group collects from civilians, it also gets a cut from the money collected by the smugglers, he said.
There are about 2,000 people involved in the smuggling operations, including brokers, assistants, smugglers, Tahrir al-Sham members and some civilians who provide logistical services for a fee at rest areas where groups wait to cross, al-Beik said.
"Tahrir al-Sham's financial resources have declined considerably in recent months, so it started looking for new sources of income," Syrian journalist Mohammed al-Abdullah told Diyaruna.
The group has monopolised fuel and many other goods, and continuously raises its prices, in addition to collecting taxes and zakat money, he said.
"The group officially added to its source of income the smuggling of civilians who wish to leave the Idlib region due to the bad security and economic situation," he said, adding that the smuggling of civilians is not limited to crossing the border into Turkey but also into regime-controlled areas.