Officials in Mosul, Ninawa province's largest city, said a new mass grave has been discovered which contains the remains of 100 unidentified individuals.
The discovery has once again brought attention to the case of thousands of individuals who went missing when the "Islamic State of Iraq and Syria" (ISIS) took control of the city in 2014.
Basman Ghanem, an official with Ninawa Health Department's forensic medicine unit, told Diyaruna a local contracting company found the mass grave by accident on September 8th.
The bodies had been buried in a mass grave in western Mosul, in the garden of Ibn Sina school, which is under reconstruction. The Martyrs' Foundation and the forensic units of Baghdad and Ninawa formed a joint committee to co-ordinate the removal and identification of bodies through DNA testing.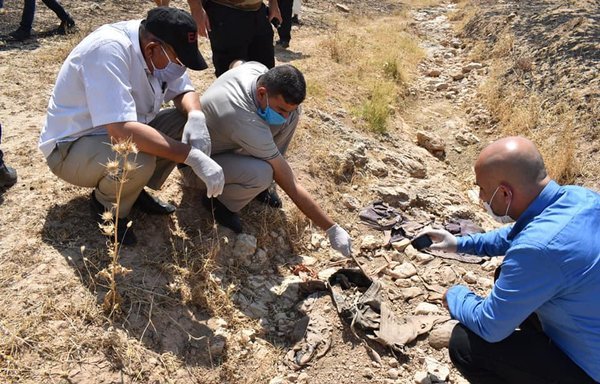 Ghanem said criminal investigations will reveal death-related details afterwards.
2,500 missing persons reported
Nashwan Salem, an official with the Ninawa Office of Human Rights, told Diyaruna his office has been working on 2,500 cases of missing persons since it resumed work in 2017, of which 450 cases have been resolved.
He called on the government to form special committees to look into the issue of missing persons.
The exact number of missing persons is unclear, he said, adding that governmental committees could help determine this number and help investigate the fate of the missing. They could also help provide technical expertise to open mass graves and identify victims' remains.
Zain al-Abdeen Musleh, assistant-director of the Ninawa Martyrs' Foundation, told Diyaruna that numerous mass graves in the province prove that the number of missing persons is most likely higher than the official number.
So far, 83 mass graves left by ISIS have been discovered across the province, he said. Sinjar, where hundreds of Yazidis were killed and buried, has the lion's share of these graves, most of which are in Kojo, a village that was completely destroyed by ISIS.
Fadel al-Gharawi, who serves on Iraq's Independent High Commission for Human Rights, said the delay in opening mass graves across Iraq is due to the presence of explosive remnants of war in their vicinity, lack of funding and an insufficient number of field specialists.
He said multiple large mass graves have not been opened yet in Ninawa, including those in Badoush, al-Khasfa and Mount Sinjar, which are likely to contain a large number of victims.