Iraqi forces on Tuesday (October 20th) found a new grave containing the remains of people killed by the "Islamic State of Iraq and Syria" (ISIS) in Kirkuk during the period of the group's rule.
Federal police discovered the mass grave while conducting security operations to look for ISIS remnants in the province's villages and reeds, Iraq's military spokesman Yahya Rasul said in a statement.
The grave contains the remains of more than 50 people who were executed by ISIS between 2014 and 2017, he said.
It is located in a remote area between the administrative borders of the city of al-Hawijah and the sub-district of al-Riyadh, Naji Ibrahim al-Hawas, head of the al-Hawijah local council, told Diyaruna.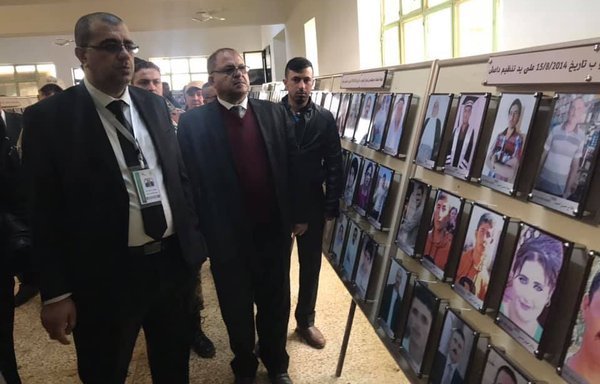 Local residents refer to the area as the "woodlands" and it lies near the village of Dawood al-Alouka, he said.
Police forces found the grave "by accident", he said, after the victims' remnants became visible above the surface as a result of not being properly buried and of exposure to the elements.
Al-Hawas said the grave's remote location indicates that ISIS used it as a site for gathering their victims and eliminating them en masse.
The victims were probably former members of Iraqi security forces hailing from al-Hawijah villages and towns, he said, noting that the militants took these men from their homes and executed them in unknown sites because they feared they would not be loyal to ISIS.
"It is also possible that the victims included members of families who fled their areas that were overrun by ISIS but never made it to safety in areas controlled by the security forces in the city of Kirkuk or in Salaheddine province," he added.
'Government should prioritise exhuming graves'
The grave discovered Tuesday "is the third to be found in western Kirkuk province", al-Hawas noted.
The two other graves -- discovered three years ago after fighting to liberate al-Hawijah ended -- contain the remains of a large number of victims, he said, adding that government teams and the UN have examined the graves and the sites have been cordoned off, but they have yet to be opened for the remains to be extracted.
Al-Hawas called on the government to award the "utmost importance" to opening the graves of terrorism victims.
"The victims' families are constantly asking us to find out the fate of their loved ones, but we cannot do anything for them because the mission of exhuming graves is beyond our capabilities," he said.
This undertaking requires technical effort, time commitment, as well as equipment and expertise to preserve the remains and run DNA tests to uncover the victims' identities, he said.
Since 2017, over 200 mass graves of ISIS victims have been discovered, dispersed across Ninawa, Salaheddine, Anbar and Kirkuk provinces.