At least one mass grave, believed to contain the remains of civilians killed by the "Islamic State of Iraq and Syria" (ISIS), has been uncovered in the Anbar border town of al-Qaim, the local administration said Friday (July 6th).
Iraqi media reported that up to three other mass graves had been found in the same area, but these reports have not yet been independently verified.
"A mass grave was discovered near the general phosphate production company after a local resident notified the security forces," al-Qaim mayor Ahmed al-Dulaimi told Diyaruna.
The local administration immediately informed the Martyrs Foundation, the government institution responsible for handling mass graves, he said, which has sent a delegation of experts from Anbar and Baghdad to inspect the site.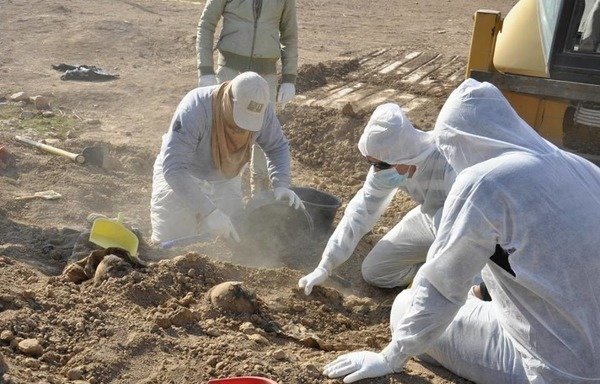 A preliminary survey of the site indicates the victims were likely civilians, as they were found in traditional clothing and sportswear, al-Dulaimi said.
They are believed to be al-Qaim residents who opposed ISIS and were killed by the group, he added, and may include former army and police personnel.
The number of victims is not yet known, he said, as specialised teams from the Martyrs Foundation must first open the grave and exhume the remains before giving an official body count.
No date has yet been set for the exhumation, "but procedures are moving along quickly", al-Dulaimi said.
"Once the grave is opened, we will obtain abundant and accurate information about the victims' identities, how they were executed, when exactly they were buried, and whether there are any other graves," he said.
Over the past three years, Iraqi forces have found dozens of mass graves of civilian and military victims executed and buried by ISIS.
The Iraqi government is working to document all violations committed by ISIS, including mass executions of thousands of Iraqis, with the goal of prosecuting the perpetrators at the national and international levels.