Iraq's top Shia cleric on Sunday (September 13th) endorsed early parliamentary elections set for June 2021, following his first meeting in nearly a year with a senior UN official.
"The parliamentary elections scheduled for next year are of great importance," said Grand Ayatollah Ali al-Sistani, 90, in an online statement after the bilateral meeting.
Al-Sistani does not make public appearances and typically issues a weekly Friday sermon through a representative.
He avoids meeting political figures, but has traditionally made an exception for the UN, which is seen as unbiased.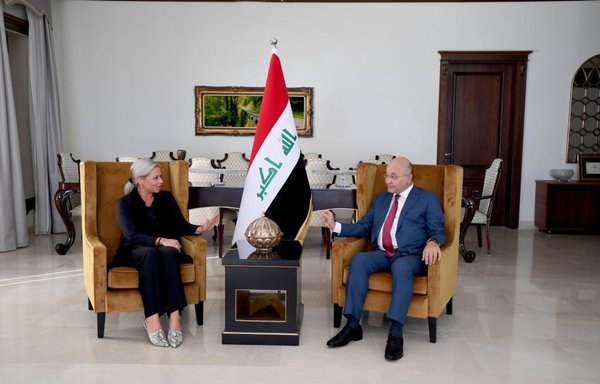 On Sunday, al-Sistani hosted the UN's top representative in Iraq Jeanine Hennis-Plasschaert in his modest home in the shrine city of Najaf, 10 months since their last meeting.
"If done in the right way, in the right and credible way, they could open an important chapter for the country," she said, referring to early elections.
Prime Minister Mustafa Kadhemi had announced in late July that Iraq would hold parliamentary elections nearly a year early, seeking to make good on one of the main promises he made when he came to power earlier this year.
Al-Sistani has himself been a proponent of early elections since last year, when unprecedented anti-government protests rocked Baghdad and the Shia-majority cities of the south.
The cleric had been increasingly sharp in his criticism of the current fragmented parliament, which was elected in May 2018.
The 329-member body has voted in favour of electoral reform ahead of next year's elections but has yet to decide on key elements, including district size.
Iraqis should be encouraged to participate "widely", he added, while warning that failing to hold the polls on time or in a free and fair way would "threaten the unity and future of Iraq's people".
Asserting Iraqi sovereignty
The government, and all Iraqis, are responsible for safeguarding Iraq's national sovereignty and "standing up to foreign interference in the country's affairs", al-Sistani said.
The government is called upon to "proceed firmly and forcefully with the steps it has taken to consolidate social justice, control border crossings, and improve the performance of security forces so that they are highly disciplined and professional", he said.
Al-Sistani also called for imposing the authority of the state and preventing the splintering of Iraqi regions into separate territories "controlled by certain groups by force of arms".
He added that the government should seize all unlicensed weapons.
Al-Sistani's statement "bears a clear message on the need to establish a state that values citizenship and justice", political analyst Ahmed Shawqi told Diyaruna.
Iraq cannot advance "as long as gangs and outlaw groups continue to carry unlicensed weapons and conduct arms displays, violating national sovereignty", he said.
These factions "seek to harm [Iraq's] security and impose foreign interests and agendas at the expense of the country's interests and unity", he added.
Armed groups loyal to Iran "put the country in danger of disintegration, causing it to slide into conflict and disorder and bringing about a bleak future for the Iraqi people", Shawqi said.
Therefore, the government must continue its efforts to undermine groups that threaten its authority and take "firmer, bolder decisions" in this regard by bolstering the security forces' ability to track down members of these groups, he said.
"We expect enhanced government measures and campaigns soon with regard to curbing unlicensed weapons and putting senior corrupt figures on trial," he added.
"The Iraqi people are following events carefully," he said. "They want their country to enjoy prosperity and peace and for no other country to interfere in its internal affairs."