Iraqi officials have commended the government's recent move to tighten control over all border crossings and ports of entry, describing it as a "bold step in the right direction".
Though it is a challenging mission, asserting full control over land crossings and seaports where Iran-backed Iraqi militias and criminal groups dominate will strip these factions of their largest source of revenue, they said.
The government began implementing its plan to tackle corruption, smuggling and illegal activities on July 11th at border crossings with Iran at Mandali and Munthiriya in Diyala province, deploying special security units to both crossings.
Military forces in Basra province were subsequently directed to protect Umm Qasr port and the Safwan border crossing with Kuwait and to prevent any unofficial force from accessing the sites.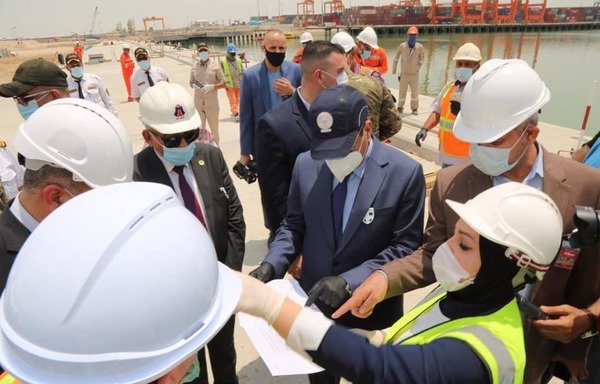 During a July 15th visit to Basra, Prime Minister Mustafa Kadhemi said that ports and border crossings must remain under the control of the state and subject to the rule of law.
"We should not be hearing that corruption is siphoning away revenues from these crossings, as this would be shameful for us all," he said, adding that "these resources belong to our people".
All ports of entry are being closely monitored, Kadhemi said, adding that "we have information on corrupt individuals at the seaports who will be legally prosecuted".
'Mafias' control crossings
Deep-rooted corruption at the ports and border crossings affects Iraq's economy and its stability, said economist Abdul Rahman al-Mashhadani.
This problem has grown significantly over the past few years, driven by the agents of various militias and by influential individuals, he told Diyaruna.
"They have morphed into mafias that control the crossings and are involved in illegal activity such as the large-scale seizure of imported goods," he said.
These "mafias" collect and keep for themselves fees and taxes imposed on imports, he explained, making what amounts to "a massive fortune every year".
Iraq imports an estimated annual $50 billion in goods through its 22 land crossings and sea ports, he said, "and the taxes on those imports are estimated to be between $7 and $10 billion".
Most of that money does not go to the state coffers, however, but instead lines the pockets of militias and corrupt individuals, al-Mashhadani said.
Smuggling arms, drugs
Militias and criminal or outlawed groups have been smuggling illegal drugs and weapons into Iraq using both official and unofficial border crossings, military expert Jaleel Khalaf told Diyaruna.
"The crossings are the largest and most significant source of wealth for these groups," he said, as the substantial revenues they generate allow them to fund their operations and pay the salaries of militiamen.
"These groups most certainly will not stand by idly in the face of any move that would undermine their influence and illegal interests," he said.
Confronting militias and criminal groups "is not an easy undertaking", he said, but the government has taken "positive and bold step in this regard".
It must "forge ahead with this approach by striking with an iron fist against those corrupt individuals in power", said Khalaf.
The government must also prepare "to respond with firmness to any pressure by the affected parties in an attempt to hinder anti-corruption measures at border crossings", he said.
Restoring state control
Reinstating the rule of law at border crossings is an urgent matter, said Iraqi MP Mohammed al-Abd Rabbo, who represents Ninawa province.
They must be managed "with a high level of discipline in order to reduce corruption that impedes [Iraq's] growth and prosperity", he told Diyaruna.
Full control of import revenues would increase state revenues, he said -- funds that could later be funneled towards public services.
Tightening control at crossings also will "undermine smuggling operations and the flooding of the market with unlicensed and low quality imports that compete with local goods", he said.
He described the government's initiative to contain corruption at the crossings as a step in the right direction, noting that the prevailing lawlessness has had negative repercussions for Iraq.