Resentment is growing in religious and popular circles in southern Iraq over Iran's continued use of Popular Mobilisation Forces (PMF) militias to expand its influence and target US interests, Iraqi politicians and observers said.
This reflects a split within the PMF, between militias that follow the Iraqi government and the religious authority in Najaf, and those that are loyal to Iran and the Islamic Revolutionary Guard Corps (IRGC).
The PMF was founded on the basis of a fatwa issued in June 2014 by Iraq's top Shia authority, Ali al-Sistani, said Hussein Mohammed al-Kazemi, an expert on religious affairs in the city of Najaf.
Al-Sistani's edict called on Iraqis to confront the rapid expansion of the "Islamic State of Iraq and Syria" (ISIS), he told Diyaruna.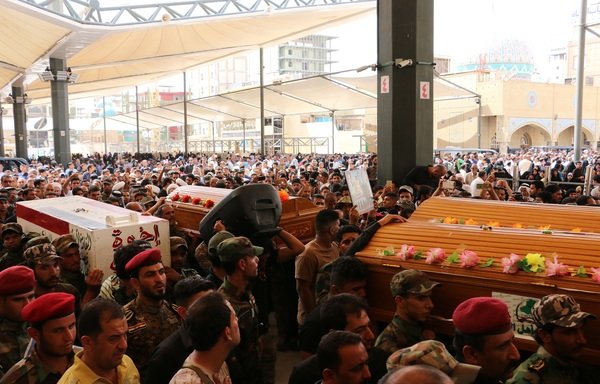 But Iraqi militias aligned with the IRGC operating as part of the PMF later took advantage of their participation in the war on ISIS to strengthen their influence and authority in Iraq, al-Kazemi said.
Following the death in January of IRGC Quds Force commander Qassem Soleimani, a rift among PMF militias began to widen.
Al-Atabat al-Muqadasa militias, whose fighters hail from Najaf and Karbala, recently severed ties with the PMF in a bid to distance themselves from the Iran-backed militias who follow Iran's supreme leader Ali Khamenei, he said.
They since have been absorbed into the Iraqi forces.
Rejecting Iran's influence
Al-Atabat al-Muqadasa paramilitary groups "refuse to be thrust into a losing confrontation with the US for Iran's benefit on Iraqi territory, where the only losers would be Iraq and the Iraqi people", al-Kazemi said.
There is a groundswell of resentment in Najaf and Karbala that a large segment of the PMF "has been turned into an Iranian armed political tool to confront the US, even though everyone knows that this is a losing proposition", he noted.
He pointed to the US response to the mid-March shelling of the Taji airbase north of Baghdad, where US and British forces were stationed, which targeted five weapons facilities operated by Iran-backed Kataib Hizbullah.
The Taji incident made it clear that Iran has been using the militias it supports to serve its own interests, and not those of Iraq, he said.
These militias follow direct orders from Iran, so when Iran wanted to escalate the situation in Iraq, they escalated it, Future Iraqi Constitutional Party chairman Entifadh Qanbar told Diyaruna.
Iran-backed militias have targeted the US embassy, bases hosting US forces, and US companies operating in Basra and Baghdad, he noted.
"Today, Tehran is trying to make a deal and enter into negotiations with the US as it seeks to make concessions," he said.
The Iranian regime is using the militias in Iraq as a political card, he added, and will abandon them if it reaches an agreement with the US.
Divisions within the PMF
Attacks on US and coalition targets carried out by Iran-backed militias "will result in political, financial and economic losses to Iraq", Iraqi Civil Current member Hossam al-Saffar told Diyaruna.
These militias know full well they "would lose a confrontation with the US, and there is not even a 1% chance of victory", he said, noting that the leaders of some PMF militias "agreed to throw their fighters into the fire for Iran's benefit".
He pointed out that the PMF is divided between groups like al-Atabat al-Muqadasa, which follow the orders of the Iraqi government and the religious authority in Najaf, and those that are loyal to Iran.
The latter groups "have been exposed to Iraqis as Iranian tools", al-Saffar said.
This is why, when the US targeted the weapons sites, "the majority of Iraqis supported the strike, and saw it as an important step toward ending the power wielded by militias that threaten the authority of the state and law", he said.