Mosul's markets are gradually regaining their lustre and role as centres of commercial activity as rehabilitation works have enabled shopkeepers to reopen and attract consumers from all over the city.
The Bab al-Saray Souq in Mosul's Old City, which was completely destroyed during the fight to expel the "Islamic State of Iraq and Syria" (ISIS), is now making a strong comeback as internally displaced residents (IDPs) return home.
The local government with help from residents rehabilitated the market and reopened it about a year ago.
Hajj Nizar Mohammed Hazim, who owns a shop selling nylon and tarpaulin sheets at Bab al-Saray, said the market "has been revived and shops have now opened their doors to the public".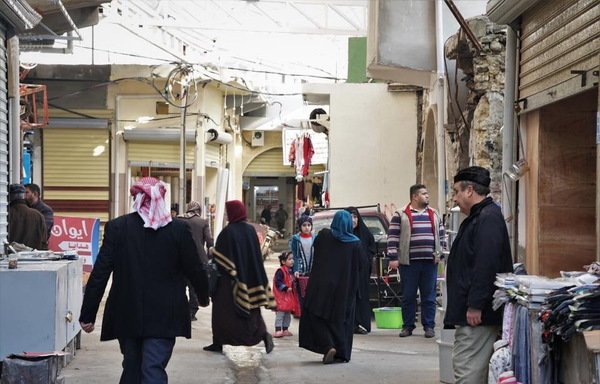 After the initial rehabilitation works, he said, "we then went on to repair the water and electricity networks, paved the streets, and rebuilt the damaged shops and stores in the market".
"The good thing is that with every passing day we are seeing an increase in commercial activity," he told Diyaruna on January 18th.
"The market is like my second home and it was sad for me and others who have good memories there to see it like that," said Hazim, who has been working at the market for the past four decades.
"I feel as if I have been born again and do not want to leave the market even for a couple of hours," he said.
Reconstruction work continues
Bab al-Saray Souq is the first market that was reopened in the Old City of Mosul as part of a plan by the local government to rebuild all the markets in the area, said Mosul Mayor Zuhair al-Araji.
"In addition to this large market, there are other indoor markets that are currently being fixed in response to requests from local residents," he told Diyaruna.
The commercial al-Halab street has been paved and shops on that street have also been rebuilt, as well as shops in al-Dawasa market, Bab Jedid, al-Attareen and al-Maydan, he said.
"Our plan has also included completion of the parking garage in the Bab al-Tob market and a commercial building in al-Arbeaa market, which is comprised of 600 shops and offices," he said. "Also, work is under way to rehabilitate al-Shawaf building located in the old market in the centre of town."
"We have achieved significant progress but have also had our share of obstacles such as the limited budget allocated from the central government to affected residents for the purpose of helping them repair their shops," al-Araji said.
"Reopening the old markets is one of our priorities as they are key to incentivising IDPs to return and settle back into their hometowns, which further revives the economy in Mosul," he said.
Abdul Hameed Khaled, who sells watches at a shop on al-Najafi street, said the old markets are the beating heart of Mosul and reflect the city's cultural and historical identity.
"We are ecstatic that Bab al-Saray Souq is open," he told Diyaruna. "It is a cultural landmark and vital institution and we hope that other markets and commercial streets are reopened, including on our street where some shops are still damaged."