Over the past year, residents of Mosul's Old City have been working hand-in-hand with the local government to rehabilitate destroyed shops and marketplaces and revive economic activity.
Since these efforts began, a large number of shops have been repaired in Bab al-Saray market, known for its traditional architecture, and one of the oldest and largest shopping centres in Mosul.
Other shops and markets are still being repaired from the damage caused during the battle to oust the "Islamic State of Iraq and Syria" (ISIS).
"What characterised our city the most was the beauty and splendour of its old markets," said Old City resident Ahmed Zakaria.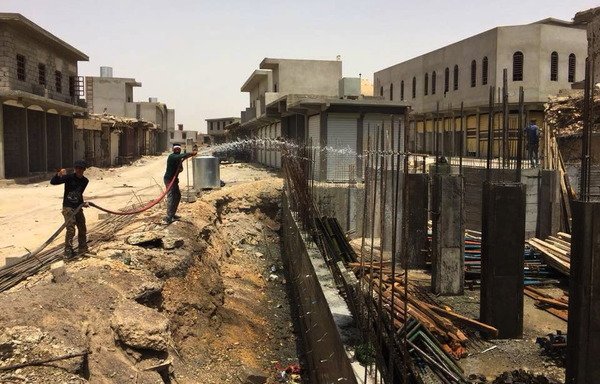 But these were largely destroyed by ISIS, he said.
"Shop owners took it upon themselves to repair the damage in co-operation with Ninawa province's administration," he told Diyaruna.
Although the task is difficult, what they are achieving is nothing short of spectacular, he said, noting that many of the shops have been rebuilt and some markets are beginning to see higher levels of activity.
The provincial government has made efforts to speed the pace of reconstruction by helping merchants rebuild their shops, Zakaria said.
"Prior to this, the relevant government departments removed the rubble and debris from the markets' walkways and restored basic services," he said.
'Extraordinary efforts'
The reconstruction of the markets "is being accomplished through the extraordinary personal efforts of shop owners, who are undertaking the task with support from the local government", said Mosul governor Zuhair al-Araji.
"We had previously formed committees to take on the task of facilitating the issuance of building permits to residents to rebuild their shops in the traditional architectural style," he told Diyaruna.
Municipalities were instructed to clear the markets of rubble, repair the water and electricity networks and help with the rehabilitation process, he added.
In addition to Bab al-Saray market, where all shops are near completion, work is under way to rebuild Bab al-Toub market and nearby shops, he said.
Other Old City markets, including Bab al-Jisr al-Ateeq, Wadi Hajar, al-Atmi and many other scattered shops also suffered damage under ISIS, he said.
"Our work is continuing and the services situation is better than it was before," he said. "Drinking water has reached the residential areas there, and the electricity supply is good."
Schools and health centres have been repaired, and a hospital has been opened in place of the destroyed al-Joumhouri Hospital, he said, while a campaign to rebuild 250 houses has received support from donors and private enterprises.
"As for al-Nouri mosque and its al-Hadba minaret, the UAE allocated $50.4 million for its reconstruction and the rebuilding of surrounding homes in co-operation with UNESCO," al-Araji said.
Restoring livelihoods
Ninawa's local government and residents of the province are determined to fully restore all the city's markets, Duraid Hikmat, advisor to the governor of Ninawa, told Diyaruna.
"Residents are taking part in the reconstruction and are contributing to our efforts, not only because they want to regain their livelihoods, but also because they appreciate the historical value of these markets and want to see them flourish once again," he said.
The restoration of markets will "undoubtedly reinvigorate shopping, provide people with their essential needs and alleviate the unemployment crisis", he added, noting that they "represent a source of stability and support".
The ongoing work to rehabilitate Mosul's markets is "an encouraging start and a reason for optimism", said Ninawa provincial council member Barakat Shammu.
"The city of Mosul, specifically the Old City, was previously classified by the Iraqi parliament as a disaster area," he told Diyaruna.
"Today it is trying to recover with available resources, as the markets are being rebuilt and public services are improving, although they have yet to reach the desired level," he said.
But Ninawa province needs more federal funds and additional support from international donors to help it meet the challenges it faces in rebuilding its infrastructure and its landmarks, he said.